Marksman and Olympic winner Hoang Xuan Vinh is all set to take part in the International Shooting Sport Federation (ISSF) World Cup, which will start on February 22 in India.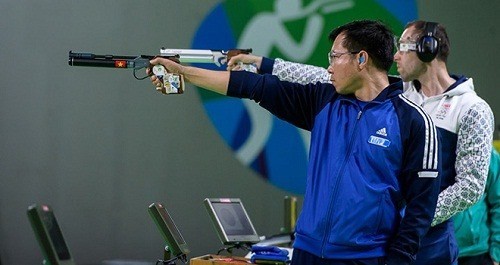 Ho​ang Xuan Vinh will compete in Indian International Shooting Sport Federation World cup next month (Photo: VNA)
It will be his first international tournament after the Rio 2016 Olympic Games.
Vinh will take part in the 10m air pistol and 50m pistol categories, his strong points. He won the gold medal at Rio and is world No 1 in the 10m category, and is world No 2 in the 50m category, after he lifted the silver in Rio.
In India, he will compete with strong rivals such as Wang Zhiwei of China, Felipe Almeida Wu of Brazil and Tomoyuki Matsuda of Japan, all high-ranking shooters.
Apart from Vinh, other Vietnamese shooters will also fly to New Delhi to compete in the pistol and rifle events, including medal-winner Ha Minh Thanh, who came third in the men's 25m rapid pistol event in Bangkok last year. The tournament will go on till March 4.
Prior to his wins in Rio, Vinh has brought home one silver (50m pistol) and one bronze (10m air pistol) from the ISSF World Cup.
After India, Vietnam will take part in two other World Cups, in Germany in May and Azerbaijan in June.