BOLTON, England (AFP) – Liverpool manager Roy Hodgson was thrilled to record his first back-to-back Premier League victories as Maxi Rodriguez's late strike proved to be the difference at the Reebok Stadium.
In a generally underwhelming encounter, Rodriguez latched on to a decent pass from Fernando Torres to blast through Bolton Wanderers goalkeeper Jussi Jaaskelainen to seal the three points with just four minutes left.
The win moved Liverpool up to 12th in the table following last weekend's victory over Blackburn Rovers and Hodgson is hoping the two results will act as a springboard to rescue what has been a terrible start to the season.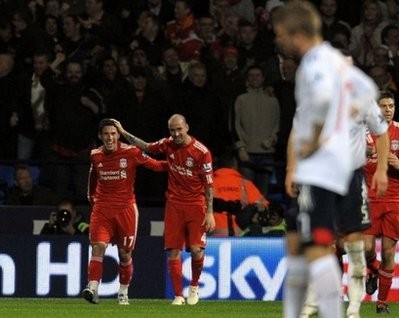 Liverpool's Argentine midfielder Maxi Rodríguez (L) celebrates with Liverpool's Raul Meireles after scoring during the English Premier League football match at the Reebok stadium, Bolton. AFP
"I hope so," he responded when asked if the victory can further Liverpool's resurgence. "I have always believed we are working the right way.
"I have always believed I as a manager or the coaching staff can't do more than we have tried to do to prepare the team to play.
"I have been as devastated as everyone has by the lack of results but I have never stopped believing that work would pay dividends. It is just a question of timescales.
"I am still not convinced it is going to pay dividends in a short timescale - it is going to be a longer job.
"It is a rebuilding job and we have still got a lot of work to do.
"It is still too early to be too optimistic but at least it is a step in the right direction.
"The players now know they have got the ability to dig in, even in games like this, which is a good thing to know.
"It is nice to see a little bit of light at the end of the tunnel."
Liverpool's new owner John W Henry flies in this week to oversee the rebuilding job at Anfield ahead of next Sunday's clash with Chelsea and Hodgson cannot wait to continue his discussions with his new paymaster.
"We have contact with each other on an almost daily basis because he is very, very interested and committed and anxious to learn more about the club," he added.
"He wants to know how the club can move forward which is music to all our ears.
"He will be holding a lot of meetings this week and he wants to spend some time with me on how I see the situation and things panning out in the future.
"It will be a good week in that respect and I suppose I am just delighted that we are doing it on the back of a victory rather than a defeat because that tends to drag everyone's mood down a bit."
Opposite number Owen Coyle was understandably upset with his side's defeat and questioned the judgement of referee Martin Atkinson who appeared to miss a Jamie Carragher handball as well as a foul by the same player on Chung-Yong Lee inside the area.
"I hate to go on about it but we were denied a clear penalty in the first half and could have had a couple in the second half when Kevin Davies was knocked to the ground as well," Coyle said.
"I keep saying the same things every week and it's supposed to even itself out but if that's the case then we deserve about 20 penalties before Christmas.
"I felt in the last third we could have had a little bit more quality and more finesse but the application and endeavour was there for everybody to see.
"It's happened now though and we will take our medicine or a kick in the teeth or whatever you want to call it."