PARIS, Aug 7, 2010 (AFP) - Twelve months on from what was supposed to be the start of their most concerted Premier League title challenge in years, Liverpool are facing a season in transition under new manager Roy Hodgson.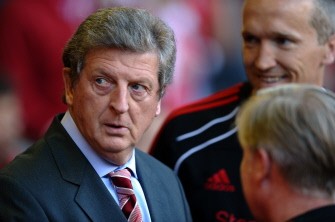 Liverpool manager Hodgson (AFP)
The anticipated title bid failed to materialise last season, as injuries, Rafael Benitez's tactical conservatism and loss of form affecting key players meant the 18-time English champions crashed to defeat after demoralising defeat.
The result was Liverpool's worst season in recent memory.
Eliminated from the Champions League in the group phase, they managed to reach the semi-finals of the Europa League but were knocked out early in both domestic cup competitions and finished a distant seventh in the league.
Benitez had guided Liverpool to a second-place finish in 2008-09 but last season's calamity was a false dawn too far and in June he parted company with the club he had memorably led to the 2005 Champions League title.
Hodgson, inspirational manager of Fulham over the past two and a half seasons, is the man who must reverse the downward trajectory of England's most successful club.
The 62-year-old's first priority was to persuade stars Steven Gerrard and Fernando Torres to stay at Anfield.
"We are working very hard on making certain the players we have at the club who you would call the 'good players' are going to be with us for next season," Hodgson said in July.
"The board are working very hard in that area. Some players are a bit disenchanted after what happened last season and we want to make sure we get that enchantment back."
Hodgson secured a major coup by capturing Joe Cole on a free transfer, having convinced the England winger that Liverpool was the right club for him to resurrect his career after he fell out of favour at Chelsea.
Gerrard reacted by pledging his immediate future to the club and Torres followed suit when firm talk of a takeover began to emerge in August, but defensive midfielder Javier Mascherano is reportedly keen to follow Benitez to Inter Milan.
Steps have nonetheless been taken to remedy the club's lack of home-grown players, with Premier League sides now obliged to name eight players who have been domestically trained between the ages of 16 and 21 in their squads.
Liverpool's foreign contingent accounted for 90 percent of their squad last season -- the highest in the division -- but the signings of English midfielder Jonjo Shelvey from Charlton and Scottish centre-back Danny Wilson from Rangers, both of whom are 18, reflect a change in the club's priorities.
"The fact that Stevie is staying will be a great help and players like Joe Cole, Milan Jovanovic, Jonjo Shelvey and Danny Wilson means there is buying for present and the future," said former Liverpool great Kenny Dalglish.
Deeply unpopular American owners Tom Hicks and George Gillett continue to attract the supporters' ire, while Hodgson will quickly have to prove he can handle what he calls "the biggest job in club football".