LIVERPOOL, England, Aug 27, 2010 (AFP) - Liverpool manager Roy Hodgson has launched a scathing attack on Javier Mascherano ahead of the Argentina midfielder's prosposed move to Barcelona.
Mascherano is set to join Barca in the next 24 hours after the Reds accepted an improved bid, having rejected a 16 million pounds (19.48 million euros) offer from the Spanish champions last weekend.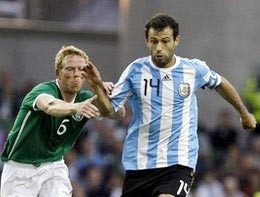 (File) Mascherano (R) in a game he plays for Argentina
The 26-year-old has been keen to leave Anfield for several months and reportedly refused to play in Liverpool's Premier League defeat at Manchester City on Monday after learning of Barcelona's interest.
That severely disrupted Hodgson's plans and he hit out at the player's "selfish attitude".
"It is not easy for me to defend the actions (of Mascherano) because professionals are paid to play and when they are called on to play, they play," he said on Friday.
"We had a player at Blackburn, Graeme Le Saux, who was very agitated when I joined the club because he was determined to go to Chelsea and that caused a lot of problems in pre-season.
"I don't think they (the players) mean it as a challenge to your authority or a challenge to the club's authority.
"It is just a selfish situation that they have got something they want to do and they just expect the club, and therefore you as one of the leaders of the club, to bow down and accept that they are going to do it.
"Unfortunately there are going to be periods of time when there will be some unpleasantness because players must also understand that when you sign contracts, you sign contracts to play.
"It doesn't bother me as a challenge to my authority; it is just a fact of life. But it is a fact of life which gets exacerbated in a one-month period in January and between July and August when it is a time of year when a lot of people are trying to do their business."