Viet Nam has made a diffident start at the 2008 World Youth Chess Championship with only five players in the leading group after five matches.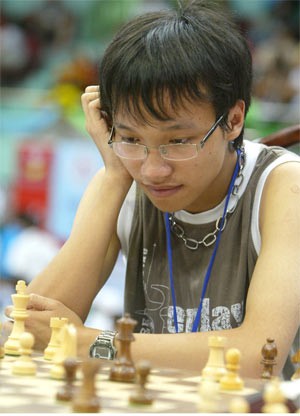 Vn's grandmaster Nguyen Ngoc Truong Son still leads his category Boys U-18 (Photo: SGGP)
Nguyen Ngoc Truong Son in Boys U-18 and Do Hoang Minh Tho in Girls U-12 were in the first standing of their category while Hoang Thi Nhu Y in Girls U-16, Le Tuan Minh in Boys U-12 and Tran Minh Thang in Boys U-8 were in top 5 of their categories. 
Other Vietnamese chess players Pham Bich Ngoc in Girls U-18, Tran Ngoc Lan in Boys U-18 and Nguyen Thi Mai Hung in Girls U-14 stayed at 10th, 16th and 23rd place respectively. 
The other highly-ranked Vietnamese grandmaster Le Quang Liem drew this fifth match for 3 points in total, and stayed in the 29th place.  
There are six more matches to go before the championships close on October 31. 
The 2008 World Youth Chess Championship (WYCC), which officially opened on October 20, has welcomed 885 players accompanied by 600 parents, and 900 officials and coaches from 75 countries and territories. 
They are being put up at 24 hotels rated 2-star upwards and approximately 200 volunteers are working to ensure all the logistical issues are sorted out smoothly.  
The organizers have also scheduled time for the players and their parents to meet, go sightseeing and also enjoy entertainments like a musical evening titled "Vung Tau – my hometown" on the evening of October 25. 
Related article:

Viet Nam Set to Host World Youth Chess Champs