TOKYO, March 18, 2010 (AFP) - Japan and CSKA Moscow midfielder Keisuke Honda's goal-scoring run in European football has given a big boost to the Blue Samurai's World Cup build-up after a recent crisis.
Japanese sports dailies were full of praise Thursday for Moscow's new signing after he set up a goal and scored the winner in a 2-1 away victory over Sevilla that sent the Russian side to the Champions League quarter-finals.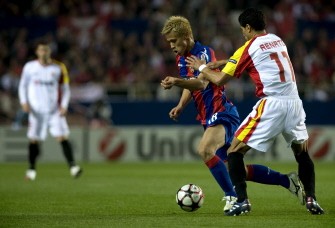 Sevilla's Brazilian midfielder Renato (R) vies with CSKA Moscow's Japanesse midfielder Keisuke Honda (L) during their UEFA Champions League football match on March 16, 2010. AFP photo
Japan Football Association president Motoaki Inukai watched the game on television with executives of football governing body FIFA in Zurich.
"When I told them I was surprised, some of the executives said the Europeans already knew Honda could play that well," Inukai told reporters.
"Honda's left foot has proven that he is Japan's new ace and it is packed with endless possibilities," the Sports Nippon commented.
The Nikkan Sports said Japan had "acquired a 'missile' that is comparable to Portugal forward Cristiano Ronaldo" while coach Takeshi Okada ambitiously insisted on aiming for a World Cup semi-final spot in South Africa.
Honda had been seen as a substitute for playmaker Shunsuke Nakamura who returned to his old J-League side Yokohama Marinos last month after struggling at Espanyol.
The 23-year-old Honda moved to Moscow in January after helping VVV Venlo return to the top of the Dutch league in the last season and scored in a 1-0 win over Amkar Perm on the opening day of the Russian season on Sunday.
Then on Tuesday, he set up Tomas Necid to score in the first-half and beat Sevilla goalkeeper Andres Palop with a 30-metre free kick on 55 minutes.
"It is like a fairytale," Dutch football great Ruud Gullit was quoted by Japanese media as saying of Honda's meteoric rise.
"He has made a great impact."
Honda, who moved to Venlo in January 2008 after four seasons with J-League side Nagoya Grampus, has become the first Japanese to reach the Champions League quarter-finals under the league's current format was set in 1992.
"I am not interested in a first for the Japanese. I am aiming higher still," Honda told Japanese media.
"A win over Sevilla is not an end. There are still others up there. I will aim for the top of the world and that makes football interesting to me."
Honda's European success is a boon to Japan after they finished third in the East Asian championships last month, which highlighted their perennial lack of firepower and put Okada's job at riske.
Fighting without their Europe-based players, Japan drew 0-0 with underdogs China and crashed 3-1 to arch-rivals South Korea.
But Honda set up a goal and scored a header in a 2-0 win over Bahrain this month in Japan's last qualifier for the 2011 Asian Cup to help save Okada's neck.