Host team Indonesia defeated Vietnam 2-0 in the second football semifinals yesterday (Nov 19) and will now meet defending champions Malaysia on November 21 at the 26th SEA Games.
Indonesia kept up the pressure all throughout the game, playing all over the field. The Vietnam team was clearly inferior to their opponents in terms of defenders, midfielders and strikers.

Goalkeeper Buu Ngoc suffered a head injury after colliding with a rival player but quickly recovered and returned to the field.
Vietnam's coach Falko Goets was also wrong in laying out his strategy. The tactic of the guest team was steadfast defense which is deployed to allow no space for rivals to handle the ball.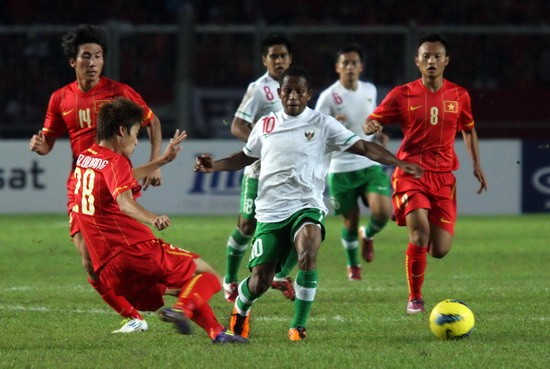 Vietnam defenders (in red) play to their utmost when confronting the host team Indonesia
After the match, coach Goets said in an interview that it was a difficult match because he had to choose counter attack tactics. The goalkeeper Buu Ngoc was blamed for wrong positioning of the second goal, Goets stated.
Host Indonesia opened the score in the 61st minute from a free kick on the right side. Vietnam goalkeeper Buu Ngoc managed to reach his hand to the ball with a diving shot but the ball slipped through his hand and went into the left corner.
Indonesia doubled the score in the 85th minute from a shot by Bonai. The ball hit a Vietnamese defender and diverted direction to go straight into the goal.
Indonesian coach Rahmad Darmawan said that Indonesia had been successful at attacking and got better ball grip during the breath-taking game which was played with a fast tempo.
In the other semifinal game, defending champion Malaysia defeated group B runner up Myanmar 1-0.
Vietnam will now meet Myanmar in the third match.