The eighth International Women's Football KTV Tournament, also known as The Thao Viet Nam Newspaper Cup, kicked off at the Cua Ong Stadium in the northeastern costal province of Quang Ninh Thursday.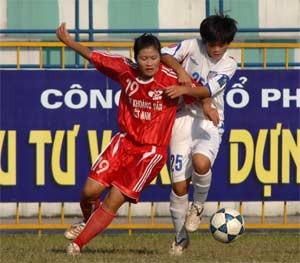 Dang Thi Ly (L) of Vietnam Coal and Mineral team battles for the ball with a defender of Taiwan in their Thursday match (Photo: SGGP)
The tournament, co-organized by the Vietnam Coal and Mineral Industry Group and the The Thao Viet Nam (Vietnam Sports Newspaper), marks the 72nd anniversary of Vietnamese Miners (November 12, 1936) and 40th anniversary of the day Uncle Ho met a delegation of representative miners. (November 15, 1968) 
Two local teams, Vietnam Coal and Mineral Industry Group (host team) and Ho Chi Minh City, and two foreign teams, one from the territory of Taiwan, and Hubei from China, are participating in the tournament. 
The tournament is being played on a round robin basis and will conclude on November 20.  
In the opening encounter, the host team prevailed over the Taiwanese team through an 80th minute strike by Bui Thi Phuong.   
Ho Chi Minh City will play Hubei today.