Athletes of host country Vietnam won six gold medals Monday at the third Asian Indoor Games, pushing Vietnam on top of the medal tally. The hosts earned 17 golds by 11pm Monday, China followed with 14 golds.
By 11pm Monday, the hosts ranked first with 17 golds, 10 silvers and 10 bronzes. China stood second with 14 golds, 10 silvers and five bronzes, and the Republic of Korea with seven golds, five silvers and five bronzes came third.
In Vovinam (Vietnamese martial arts), local athletes gained two more golds and raised Vietnam's total of gold in the sport to 8, out of all 14. Nguyen Minh Tinh was the champion in Vovinam fighting, the 70kg men's category, after defeating Seyed Morteza from Iran.
In the men's 65kg, Iranian Alireza Jadidi beat Lao rival Sirivanh Khamphi 10-0 to take gold.
Vietnamese duo Lam Dong Vuong and Tran The Thuong took another gold in double performance, while artists from Cambodia received the silver medal, and from an Indonesian duo earned the bronze medal.
In fin swimming, Vietnamese swimmers won two more golds in the women's and men's 4x100 meter teams events. After them were Japanese athletes.
Indonesian women took the bronze for the female team event while Thai men bagged the bronze medal for the male team event.
In the sport, after three days of competition, the Vietnamese fin swimming team obtained four golds, four silvers and two bronzes, ranking third.
China and the Republic of Korea ranked first with five golds each.
In lion dance, the Vietnamese team took the gold. Hong Kong and Macau came second and third, respectively.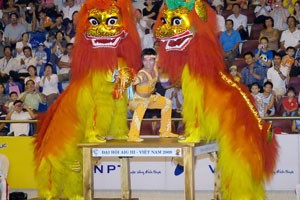 Vietnam's lion dance team during their competition in Ho Chi Minh City on Nov. 2 night (Photo: SGGP)
In kurash (Uzbekistan martial arts), Vietnamese woman Van Ngoc Tu earned the 52kg category gold after beating all the other three competitors in a round-robin format.
In track and field, Asian outdoor champion Truong Thanh Hang failed to pocket an indoor gold in the women's 800m run. She was second to Margarita of Kazakhstan. Meanwhile, Southeast Asian champion Vu Van Huyen tried his best to won a bronze.