PARIS, June 6, 2010 (AFP) - Rafael Nadal celebrated his fifth French Open title on Sunday and admitted he feared his career could have been over when a series of personal and professional setbacks engulfed him.
The Spaniard saw off Robin Soderling 6-4, 6-2, 6-4 in the Roland Garros final to avenge his fourth round defeat against the same player in 2009, his first and only career loss in Paris.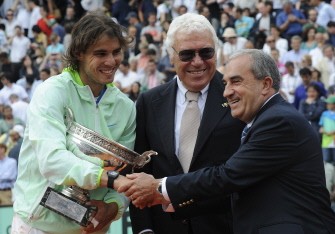 Rafael Nadal (L) poses with a trophy next to President of the French Tennis Federation Jean Gachassin (R) and former Italian tennis player Nicolas Pietrangeli (C) on June 6, 2010 in Paris. AFP photo
That defeat, which came as he battled serious knee injuries as well as coping with his parents' divorce, had many observers predicting that his time at the top was over.
And Nadal said he too shared those doubts when he was forced to retire injured from his Australian Open quarter-final with Andy Murray in January, forcing him off the tour for two months having already had to abandon his Wimbledon title defence the previous summer.
"Sure, I had doubts. When I was at home in December I felt that I was in the perfect condition to do well in Australia. I played well in Abu Dhabi and Qatar, but it was very hard to retire in Melbourne," said the 24-year-old.
"Today I cried because it was a very emotional moment. There had been a lot of pressure and tension. It had been a difficult year in 2009."
Nadal blazed a trail through the European claycourt swing, prefacing his French Open triumph - and seventh Grand Slam title in all - with a Masters sweep in Monte Carlo, Rome and Madrid.
He finished the clay season with a perfect record of 22 wins in 22 matches.
The key moment to his renewed confidence after such a dreadful 2009 was his historic sixth Monte Carlo title which crucially was his first trophy in 11 months.
"I thought of the hours on court and how many hours I spent thinking about the 11 months without a title. There were lots of difficult moments like Australia," he added.
"So this is very important. It was my personal goal to be back to my best. The biggest personal satisfaction is to win again and be back at the top level."
Being a champion again also means he has regained the world number one spot from Roger Federer.
"Winning Roland Garros is more important than being number one. When I cried at the end of the match, the last thing I was thinking of was being number one in the world. It was this trophy."
But even with that prestigious achievement as well as being just one title behind the all-time record of six French Opens won by Bjorn Borg, Nadal refuses to get too carried away by his success.
"When I see the titles, it's amazing. I don't know how I did it, but it would be arrogant of me to say I am the greatest in history. I don't believe I am. I just try to do my best every day," said Nadal.
"Others will decide if I am the best, but not me."