DOHA, Jan 6, 2011 (AFP) - Japan and Borussia Dortmund phenomenon Shinji Kagawa says he will strive to be like Lionel Messi as he prepares to use the Asian Cup as a springboard in his debut Bundesliga season.
"I will aim to become a number 10 who can score goals," he said about the shirt number newly assigned to him as the Blue Samurai ready to regain the continental cup when the tournament opens in Qatar on Friday.
"Just like Messi," the 21-year-old told reporters with a smile, referring to the Argentine goal-machine who also wears the same number for his country and Barcelona.

Kagawa has scored eight goals in 17 games after moving to Dortmund from J-League Cerezo Osaka last summer when he failed to make Takeshi Okada's World Cup squad who reached the last-16 in South Africa.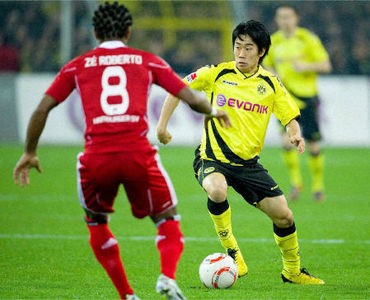 (File) Kagawa (R) plays in Germany
Alberto Zaccheroni, who took over from Okada in September, has said he would not fix the shirt number on any single player.
Many had believed that the number 10 would be handed to CSKA Moscow's Keisuke Honda, who scored two goals in South Africa, from former Celtic star Shunsuke Nakamura who retired from international duty after the World Cup.
"I want to win the Asian Cup and keep the momentum going into the Bundesliga, making it a fulfilling year there," said Kagawa, who has reportedly interested Spanish clubs like Villarreal and Atletico Madrid.
But Kagawa admitted it would not be easy to score against Asian Cup Group B rivals Jordan, Syria and Saudi Arabia.
"I think they will defend deep," he said. "But if we keep on fighting patiently for 90 minutes, chances will definitely present themselves.
"We've been practicing how to use spaces and we need to create spaces and bore in. I expect difficult games ahead of us but we will fight patiently."
Japan lost to fellow three-time champions Saudi Arabia in the 2007 Asian Cup semi-finals, failing to lift a third-straight title.
For Kagawa, Qatar is a happy hunting ground as he was a member of Japan's squad that won an under-19 international tournament here three years ago.
But Doha is remembered by many Japanese supporters as the place where Japan were tied 2-2 by Iraq in stoppage time in their last qualifier for the 1994 World Cup in the United States.
Japan failed to qualify and had to wait four more years to make their debut on the big stage.
The Blue Samurai of today have been practicing at the Al Ahli Stadium, the scene of the historic defeat remembered by the Japanese as a "tragedy of Doha." "I have no particular feeling about it," said Kagawa, who was four years old at the time.