MADRID, March 29, 2010 (AFP) - Barcelona's Thierry Henry admitted on Sunday that he'll always be an Arsenal fan despite hoping to deliver a knockout blow to his former club's Champions League hopes this week.
Defending champions Barcelona travel to the Emirates Stadium on Wednesday for the first leg of their quarter-final tie, with the 32-year-old French striker insisting it will be an emotional evening.
Henry has not had to face Arsenal since he joined the Spanish giants in June 2007 in a four-year deal worth 24 million euros.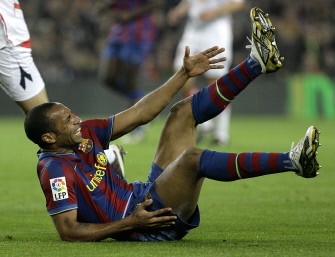 Thiery Henry falls during a Spanish League football match against Osasuna at the Camp Nou Stadium in Barcelona, on March 24, 2010. AFP PHOTO
"Since I joined Barcelona I have only been back to Arsenal on one occasion. It was when they played Blackburn three or four months ago. I don't know how people will react," he said, adding he sees himself as an Arsenal supporter.
"I will always be one. When Arsenal play and I can see the game you can be sure to find me in front of a television."
Henry was the English league's leading scorer on four occasions during his eight years in London.
He was voted the best player in the Gunners' history in a recent online poll carried out on Arsenal's official club website.
"When you play in a team your aim is to give everything and after the people can look back and judge," he said when asked about the poll's results.
"I have a special relationship with Arsenal fans. It is like a trophy. A trophy of affection."
Henry added that it will feel strange facing his old teammates although he is likely to start the game from the bench.
"I am very emotional, but also keeping calm. It will be a strange game for me," he told Barcelona's TV station.
"Before the draw I said that I did not want to meet Arsenal. That was my wish. But now it is what we have been given and we will have to be at our best.
"I spent eight years at Arsenal. It would be like if Xavi left Barca and then returned one day. You prepare yourself, but it's strange. Even so, if I play I will give everything like I always have done."
With the Arsenal game in mind, Henry was rested in Saturday's 1-0 win at Real Mallorca along with Gerard Pique, Xavi and Lionel Messi who has scored 11 goals in his last six games in all competitions.
"I have played alongside some great players, but Leo is very special," said Henry.
"What Leo can do is difficult to find in any other player. The other day I had my head in my hands because I did not know how he does such things.
"I received a lot of messages all asking me if Leo is human. At times I ask myself that. What he does is not normal. We just have to enjoy it all."
Messi has scored 25 goals in the league this season to top the goalscoring charts and the comparisons with Argentine great Diego Maradona have gone into overdrive.
Coach Pep Guardiola rested Messi for the Mallorca win before an injury to Andres Iniesta - who will miss the Arsenal game - meant the Argentine came off the bench early in the second half.
"It is never good to rest Leo (Messi) but the other day he finished the game very tired and he gave us a lot in the half hour and didn't tire himself out," said Guardiola.
Henry played a vital role in last season's league, Kings Cup and Champions League treble but has just three league goals in 16 games this season.
He believes Arsenal, still in the English Premier League title race, will go all out to win the match, as will Barcelona, to try and secure a first leg lead.
"There will definitely be pressure (on Arsenal)," added Henry. "They are at home. On Wednesday they are playing against the reigning European champions in the Champions League quarter finals and they will go all out - like we will."
The last time Barcelona met Arsenal in the Champions League was in the 2006 final when Henry was on the losing Arsenal side as Barcelona triumphed 2-1 in Paris.
Barcelona will host Arsenal in the return leg on April 6.