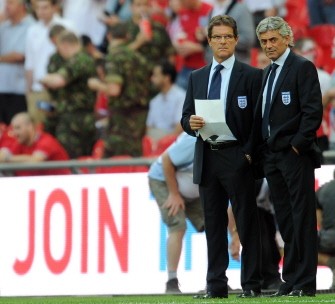 This AFP file photo shows England manager Capello (L)
LONDON, Aug 29, 2010 (AFP) - England manager Fabio Capello insists he is a fighter and will cling to his job as his players prepare to launch their Euro 2012 qualifying campaign.
Capello has been the subject of abuse and ridicule from some sections of the English media since a miserable performance at the World Cup saw his side beaten 4-1 by Germany in the last 16.
He was even pictured with donkey ears in one newspaper and called an 'ass' for sending Arsenal teenager Jack Wilshere back to the Under-21s instead of selecting him to face Bulgaria on September 3 at Wembley and Switzerland in Basel on September 7.
Now, as Wayne Rooney, Steven Gerrard and company prepare to begin the Euro 2012 qualifying campaign, Capello is adamant he has no intention of being forced out of the job with two years remaining on his six million pounds-a-year contract.
"I've read and heard a lot of different things but I am focused on my job," he said "I'm a fighter. It's my job, I fought for it.
"I am here because I enjoy my job. I have two years and my focus is to play the Euros.
"We must focus on the games we play against Bulgaria and Switzerland - and the future will be to play the finals because England is a very important country to play in the Euros."
Capello, who was once the darling of the Engish press after transforming the team from Euro 2008 flops to early qualifiers for the World Cup, has seen his reputation suffer a dramatic collapse in recent months.
The trouble dates back to his decision to become involved in the ill-fated 'Capello Index' website, which would have rated players - including his own - after matches in South Africa.
Capello hastily withdrew from the site following an angry reaction but his squad selection for the World Cup caused further controversy as he left out Theo Walcott and Adam Johnson and turned to injury-prone Ledley King and retired veteran Jamie Carragher at the last minute.
The pressure was only slighty relieved by a 2-1 friendly victory over Hungary this month, but Capello remains confident the English public are behind him - and insists he is unconcerned by negative media coverage.
"About this, it's better I don't speak," he said. "It's some people, some journalists."
Perhaps the issue that dogs Capello most is an accusation he doesn't have the language skills to deal with England's top players - a claim levelled most recently by England legend Gary Lineker.
"Look this comes from one interview," insisted Capello. "And I think that my English is much better than Gary Lineker's Spanish. I am focused on my job, it doesn't affect me.
"I never had a problem with the players. When everything was ok I was a fantastic manager, I spoke fantastic English. After we lose against Germany it's bad."
Capello is likely to bring through several different players over the next two years as he tries to erase the memory of that World Cup flop.
Fulham's young goalkeeper David Stockdale is being watched while his club-mate Bobby Zamora also made an impressive international debut against Hungary and has started the season well in the Premier League.
It has even been suggested Zamora could start ahead of Wayne Rooney, who has begun the season slowly after a poor World Cup, if the Manchester United man does not appear fully match fit in training this week.
Capello said: "He needs to play. Without playing the games a lot of minutes it's difficult to find a really good condition.
"But Rooney is still an important player. He had some chances in the World Cup but didn't score but he's really, really important."