MADRID, April 26, 2011 (AFP) - Barcelona midfielder Andres Iniesta is already dreaming of a Champions League final tussle at Wembley even as his side prepared for their semi-final against old rivals Real Madrid.
"I am dreaming of going out there at Wembley. We must think only of going over (to Madrid for Wednesday's first leg) and scoring some goals and then in the return our fans will drive us on to Wembley," Iniesta told a news conference.
"It would be the cherry on the cake to land another two titles," said Iniesta, in reference to a league title as good as retained and a potential Champions League success to follow on from previous triumphs in 1992, 2006 and 2009.
"We have to fight to the finish," he stressed, in the knowledge that Real are desperate for a 10th European crown having just given coach Jose Mourinho his first Spanish silverware in the shape of last week's King's Cup win over the Catalan club.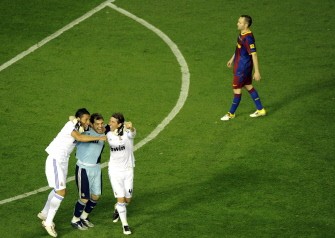 AFP - Real Madrid's goalkeeper and captain Iker Casillas (C), defender Sergio Ramos (R) and defender Ezequiel Garay (L) celebrate next to Barcelona's midfielder Andres Iniesta after winning the Spanish Cup final Real Madrid against Barcelona at the Mestalla stadium in Valencia on April 20, 2011. AFP
Barca, with their honed high-speed passing game, would normally be rated as favourites as Mourinho tries to mould Real in what is his first season with the club.
If they do come through they will face either 2009 final victims Manchester United or Germany's Schalke on May 28.
But Iniesta admits that his side cannot be complacent patricularly after their King's Cup loss, sealed by Cristiano Ronaldo's extra-time header.
"We must concentrate on our own game, try to keep it tight at the back and attack well to try to get the win, score some goals to ensure the first leg leaves us with an advantage," said Iniesta.
"Every match is different - this one will be too, as will the second leg," added Iniesta, forecasting a pair of "intense" affairs.
He concluded that Barca would continue to play the game their way with a certain flair, knowing that if they did have to claw back a first leg deficit they would always have the home second leg to do so.
But, even with the away leg up first, "our intention is to go out and win - that's the only way we know how."
UEFA has cleared Iniesta for the game despite allegations he allegedly incurred a yellow card deliberately in the quarter-final home leg against Shakhtar Donetsk.
He missed the return away to the Ukrainians but has a disciplinary clean slate for Wednesday.