DOHA (AFP) – Japanese starl Shinji Kagawa said he feared the worst on Thursday, as he headed back to Germany after sustaining a foot injury that has ruled him out of the Asian Cup final against Australia.
The 21-year-old Borussia Dortmund forward was substituted in the 87th minute of Japan's penalty shoot-out victory over South Korea in the semi-finals on Tuesday.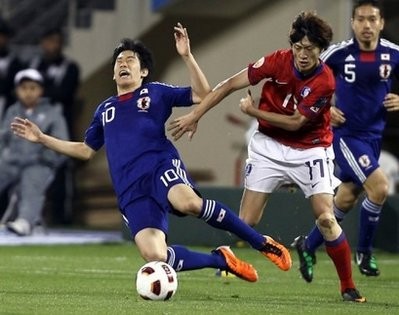 Japan's forward Shinji Kagawa (L) falls to the ground as he vies with South Korea's midfielder Lee Chung-Yong during their 2011 Asian Cup match in the Qatari capital Doha. AFP
He missed training on Wednesday and subsequent scans revealed that he had broken a metatarsal bone in his right foot, which will potentially keep him out of action for the rest of the German league season.
"I'm really worried that I'm facing the worst case," Kagawa told reporters at Doha airport, after arriving on crutches.
"But I'm convinced that the team will win (against Australia)."
Kagawa revealed that he felt an "awful impact" after embarking on a dribble in the second half of the game against South Korea, which Japan won 3-0 on penalties after the game finished 2-2 following extra-time.
He played on until near the end of normal time but said: "I was feeling it was a bit risky."
Kagawa will now consult the medical staff at Dortmund before a decision is made on whether or not he will require surgery.
"I haven't done enough," said the crestfallen Kagawa on his performances at the Asian Cup.
"I will work hard and want to return (to the national team) because I want to improve myself in many ways."
Kagawa will travel back to Germany via Switzerland and is expected to arrive on Thursday afternoon.
The skilful, right-footed attacker has been one of the stand-out players of the tournament in Qatar, having scored twice and created the winning goal in Japan's 3-2 defeat of the hosts in the quarter-finals.
He has become a star in the Bundesliga since arriving from J-League club Cerezo Osaka last year, after failing to make the Japan squad that reached the last 16 at the World Cup in South Africa.
Kagawa has scored eight goals in 17 Bundesliga matches for runaway leaders Dortmund, making him the club's current joint-top scorer.
Three-time champions Japan face Australia in the Asian Cup final on Saturday.