MELBOURNE, Jan 27, 2011 (AFP) - Rafael Nadal is looking to put behind him the despair of missing a cherished 'Rafa Slam' and recover from his Australian Open injury setback to again rule men's tennis.
The world number one was in tears late in his injury-ruined quarter-final Wednesday with Spanish friend David Ferrer as he realised his quest for a fourth straight non-calendar year Grand Slam victory was over.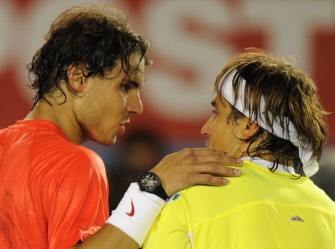 Rafael Nadal (L) places his hands on match winner David Ferrer on January 26, 2011. Ferrer won 6-4, 6-2, 6-3. AFP
Although he refused to dwell on the injury out of respect for Ferrer's unexpectedly easy 6-4, 6-2, 6-3 victory, he told Spanish reporters that he may have torn a muscle during the match.
Nadal sought a medical timeout after a fiercely-contested second game of the match when his serve was broken following a marathon 22 points.
When he reappeared on Rod Laver Arena his upper left thigh was bandaged and there were reports that he had a hamstring injury.
But Nadal gave away few details at his post-match news conference, out of deference for close friend Ferrer who now faces a semi-final with last year's runner-up Andy Murray on Friday.
By a quirk of fate, Nadal also pulled out of last year's quarter-final with Murray with knee trouble on the same Australia Day national holiday in his only other injury retirement at a Grand Slam.
Although the severity of his injury is not known, Nadal faced questions last year about his playing future when the knee tendinitis kept him off the tour until March.
He went on to string together the French Open, Wimbledon and US Open crowns and came to Melbourne looking to become the first man since Rod Laver in 1969 to own all four Grand Slam titles at the same time.
An emotional Nadal was able to put a positive slant on his latest problem, after last year's astonishing run when he became the youngest player in the Open era at 24 to complete a career Grand Slam.
"Last year I had a fantastic year," Nadal said. "Last year in the beginning I had problems, too, and finally it was the best season of my career.
"I think is almost impossible to repeat that. I had really good moments and at the same time some really negative moments.
"So this is one of bad ones, one of the negative moments. That's part of the sport. I think I am a very lucky sportsman to have what has happened in my career.
"And I have to accept the fantastic moments that I've had during the years the same way as when I have problems.
"If I am ready to accept both the highs and lows as the same, then I am going to be able to come back and play my best tennis again."
Nadal has entered the Indian Wells tournament in California from March 7-20 along with Roger Federer and Novak Djokovic.
But straight after his match Nadal said he was not sure when he would next appear on the ATP Tour.
"I don't know yet. I have to think a little bit about everything and we will see what's going on in the next weeks," he said.
Nadal said he hated injury retirements and had sour memories of his Australia Day pull-out at last year's Australian Open.
"I hate the retirements. I did it here last year. I hate that moment. I didn't want to repeat that," he said.