BIRMINGHAM, England, Jan 28, 2010 (AFP) - Arsene Wenger admits Arsenal must win Sunday's crucial Premier League showdown with Manchester United, but the Gunners boss fears injuries to Thomas Vermaelen and Eduardo could wreck his side's hopes.
Wenger knows a victory over Sir Alex Ferguson's men at the Emirates Stadium is essential after Wednesday's 0-0 draw at Aston Villa left his third placed team two points behind leaders Chelsea, who have a game in hand over their London rivals, and a point behind United.
The task of defeating the reigning champions has been made even harder after injuries to Belgian defender Vermaelen and Croatia forward Eduardo.
Vermaelen will have an x-ray on a suspected broken fibula on Thursday and could be out for several weeks, while Eduardo will miss the United game with a hamstring injury.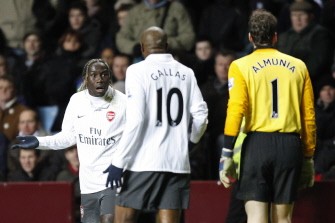 Arsenal defender Bacary Sagna (L) gestures to fellow defender William Gallas during the English Premier League football match between Aston Villa and Arsenal at Villa Park in Birmingham on January 27, 2010. AFP PHOTO
Wenger said: "It keeps our run going and we are on a very strong run. If you put all the games together it maintains our positive vibe.
"But any game you have to win at the moment compared to Chelsea - they win and so we have dropped two points.
"We want to win our next home game against Manchester United, we go from game to game. If you look far too ahead it is not too good.
"Does it increase the pressure on us not winning? We have enough pressure, don't worry. We want to win the home game and hopefully we will not be hit too hard with injuries.
"Vermaelen is on crutches and we're not sure if it's a nerve or a bone. Eduardo's hamstring is a small one but he will be out of the United game."
Perhaps that explained Wenger's tetchy post-match comments which so enraged Villa manager Martin O'Neill.
When Wenger described Villa's tactics as "English" he didn't mean it as a compliment and O'Neill admitted he was insulted.
"I believe it was a very long ball game. It was a very efficient English game, very physical and they are good at counter-attacking," Wenger said.
O'Neill bristled when told that Wenger believed it had been two points dropped for Arsenal. But he was even more furious with Wenger's assertion that Villa are over physical and reliant on long balls.
He said: "If that's what he saw that is as ridiculous a statement as I've heard.
"He's made a few ridiculous statements in his time here but that's probably as good as any.
"Anybody who saw the game wouldn't take that viewpoint. Ashley Young didn't have time to play long balls when he was taking their left-back to the cleaners. It's an appalling insult."
Villa have now not scored for four successive league games and sit four points behind fourth placed Tottenham, but O'Neill is refusing to press the panic button.
He said: "I thought that we played splendidly. We caused them plenty of problems, as they did and they hit the post and crossbar but I'm really disappointed. We didn't deserve to get beaten.
"We had a lot of possession against a Champions League side that had been top until recently. There were some great performances.
"I thought Stewart (Downing) was going to score in the second half and if we'd scored at that particular time it would have been deserved.
"I would have expected him to hit the target because he's usually very good in those situations. I think he was caught in two minds.
"We've gone four league games without a goal but they are games we should have won.
"A couple of weeks ago we were going along merrily without too many probs but they are starting to mount now. But I couldn't have been more pleased with the team."
O'Neill could have been celebrating a win but for a dreadful miss from Downing early in the second period. But Wenger was also frustrated after seeing both Cesc Fabregas and Tomas Rosicky strike the woodwork.