MILAN, Italy, April 4, 2011 (AFP) - Schalke 04 are not kidding themselves, insisting on Monday that they are the underdogs for Tuesday's Champions League quarter-final, first leg clash at the San Siro against holders Inter Milan.
Schalke have reached the quarter-finals of this competition for only the second time while Inter won it for the third time last season.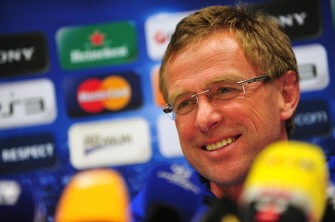 AFP - Schalke 04 coach Ralf Rangnick reacts during a press conference on the eve of his team's quarter-final Champions League match against Inter Milan on April 4, 2011
What's more, Schalke are struggling down in 11th in the German Bundesliga and are already out of the running for European qualification while Inter are third in Serie A and in the scudetto fight.
So the Germans have no delusions of grandeur.
"They won the title last year so clearly Inter are the favourites but we want to play well and get a good result," said goalkeeper and captain Manuel Neuer.
"As for Samuel Eto'o, of course he's a very good player but there's no need to fear Inter, sure they're very good in attack but our defence is also very good."
Neuer, who is also the Germany number one, said his side could take inspiration from the 1997 UEFA Cup final when the club upset the odds by beating Inter on penalties.
But he also said that they will have to be aware of Inter's never-say-die spirit that saw them overturn a 3-1 aggregate deficit against Bayern Munich at half-time in the second leg of the last round to go through on away goals.
"In the return game in Munich at half-time they seemed to be going out but they managed to come back and control the game and get the result they needed to advance so we know we need to play well and to be careful," added Neuer.
"There are great memories from 1997 and we hope to repeat that and play well so we can go home with a good advantage."
Defender Benedikt Hoewedes said the players had watched a video of Inter's 3-0 derby defeat to AC Milan at the weekend and had had a chance to analyse their opponents.
"Of course we learnt things when we saw Inter play, like the fact they are a typical Italian team, very defensive but with dangerous players," he said.
"We will have to be very compact and not leave any spaces."
Coach Ralf Rangnick, who was at the San Siro on Saturday, admitted that Inter's derby woes could even work against his team.
"Of course losing a derby hurts and you could see from the atmosphere in the stadium that they were very upset but Inter have great quality," he said.
"But it's not important to look at them, we have to concentrate on us, it will be difficult but we have to work hard to get a good result."
Inter may have greater experience and quality as a group, but in Spanish forward Raul, Schalke have the competition's all-time leading goalscorer and the man who has played in more Champions League games than anyone else.
"He's very important for us, he has an important role for us and he takes his responsibilties," added Rangnick.
"He can decide a game on his own but we need to play as team to get a good result.
"You can't only look at individuals. I you compare the teams man for man, Inter are better so the only way to win is to play as team."