More than 90 tennis players have confirmed their participation at the seventh Toyota Women's Open Tennis Tournament in Ho Chi Minh City from May 13 to 21, 2006, the organizing committee announced at a press conference on May 9.
The competitors come from Australia, Brazil, Britain, Germany, Georgia, Hungary, India, Japan, Latvia, New Zealand, the Philippines, Slovakia, Taiwan, Thailand, Ukraine, Uruguay, the US, and Viet Nam.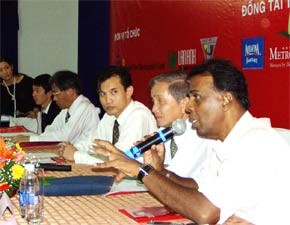 Tournament counselor S. Uthrapathy makes a point at the press conference (Photo: Tuong Thuy)
The Toyota Women's Open is staged at the Lan Anh Country Club, 291 Cach Mang Thang Tam Street, District 10.

The contestants will compete in the singles and the doubles. The qualifiers will take place in the first two days, followed by the official round until May 20, then the final round on May 21. Viet Nam Television and Ho Chi Minh Television will broadcast live some of the matches. 
Tournament director Anthony Pham said the first-seed player is Taiwan's Chan Yung Jan, 176th in the Association of Tennis Professionals(ATP) ranking. After her are Japan's Okamoto Seiko and Thailand's Viratprasert Suchanun, 192nd and 193rd in the ATP ranking.
Like in the six previous Toyota Women's tournaments from 1999, the organizers are also the International Tennis Federation (ITF), the Lan Anh Country Club and the Ho Chi Minh City Tennis Federation. Ms. Elda Matsuno, an ITF executive, is the tournament supervisor.
The organizers have decided that the tournament's four white cards (a privilege for a player to be free from the qualifiers) will be given to Viet Nam's two top female players, Huynh Mai Huynh and Tran Thi Kim Loi, and Japanese player Watanabe Kana, who is selected by main sponsor Toyota. The organizers will name the last white card holder when the tournament kicks off.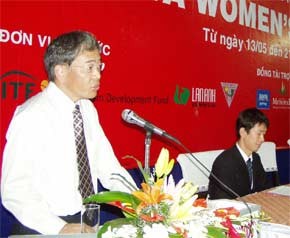 Toyota Motor Viet Nam President Murakami delivers his speech (Photo: Tuong Thuy)
Tournament counselor S. Uthrapathy said the Grand Slam Development Fund sponsors US$5,000 to this year's tournament for the first time. He added the figure is humble but it is good news because the fund has started paying attention to Viet Nam. 
Like last year, automaker Toyota Motor Viet Nam will spend US$25,000 on all prizes. Mr. Nobuhiko Murakami, President of the company, said: "Vietnamese players in this tournament will have great opportunities to challenge and to improve their level and competition experience. We hope to discover future seed players for Viet Nam."

He added he expects the tournament to bring fantastic and interesting matches to spectators.