Barcelona's spending spree continued on Friday as they signed French international defender Eric Abidal from French champions Lyon for 15million euros on a four year contract.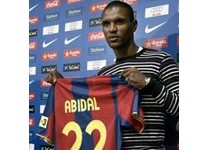 French international defender Eric Abidal
Abidal - who was part of the French team that reached the FIFA World Cup final last year - had been at the six-time French champions since 2004 and had been the subject of several bids by Barca all of which had been rejected.
However Barca president Joan Laporta finally secured his target after upping a 14 million euros bid by another million and with other bonuses for Lyon included in the deal such as 500,000 euros should Barcelona win the UEFA Champions League.
Abidal will join compatriot and former Arsenal striker Thierry Henry, who signed for the deposed 2006 Spanish champions last week, and Barca have also netted Yaya Toure from Monaco.