LUANDA, Jan 10, 2010 (AFP) - The Africa Cup of Nations opened Sunday with President Jose Eduardo dos Santos condemning the rebel attack that killed at least two members of the Togo squad, but insisting the games would go on.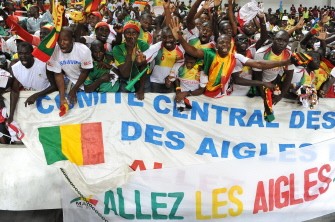 Malian fans celebrate a 4:4 tie during the opening match of African Cup of Nations football championships between Angola and Mali at the November 11 stadium in the Angolan capital Luanda on January 10, 2010. AFP PHOTO
The gun attack Friday in the restive northern province of Cabinda has cast a pall over the opening of Africa's premier football tournament, which had been meant as a coming-out party for the oil-rich nation after decades of civil war.
"We condemn this act of terror, but the competition will continue in Cabinda," Dos Santos said. "We are together, may the best man win."
Togo's government has dispatched a plane to return its team home, even though players wanted to contest the 16-nation competition to honour their assistant coach and a team spokesman killed in the attack claimed by separatist guerrillas.
Coach Hubert Velud told AFP in Cabinda that the team was ready to leave, but Angolan authorities and the Confederation of African Football (CAF) were said to be in talks with Togolese officials in a last-minute effort to convince the team to stay.
Cabinda is to host seven of the tournament's 22 matches, but with Togo's goalkeeper Kodjovi Obilale still in critical care at a South African hospital, their prime minister ordered the team home.
"We understand the position of the players who want to in some way avenge their dead colleagues, but it would be irresponsible for the Togolese authorities to allow them to continue," Houngbo told reporters in Lome.
Captain Emmanuel Adebayor told a French radio station that Togo President Faure Gnassingbe had personally told the team to return, a conversation that turned the team's decision.
"We all decided to do something good for the country and play to honour those who died," said Adebayor, a Manchester City striker. "Unfortunately, the head of state and the country's authorities have decided otherwise. We will pack up and go home."
South African President Jacob Zuma condemned the shooting as "shocking and unacceptable", but brushed away speculation that the attack could affect his nation's hosting of the World Cup in June.
He "reiterated that South Africa remains 100 percent ready to host the FIFA World Cup, and dismissed speculation that the Angolan incident had any bearing on the World Cup tournament in South Africa," his office said in a statement.
Rebels ambushed the Togo convoy as they drove into the Cabinda enclave from neighbouring Congo-Brazzaville on Friday, leaving players cowering under their seats during a 20-minute gunbattle with security forces.
Separatist rebels threatened to carry out more attacks, saying they had warned CAF boss Issa Hayatou against holding matches in Cabinda.
"This is going to continue, because the nation is at war, because Hayatou persists," said Rodrigues Mingas, secretary general of the Forces for the Liberation of the State of Cabinda-Military Position (FLEC-PM).
"We wrote two months before the Nations Cup to Mr Issa Hayatou to warn him that we were at war. He did not want to take our warnings into consideration," Mingas told AFP by telephone.
"They were warned, they knew it, and they closed their eyes."
Mingas's faction is one of several groups battling for independence in small but oil-rich Cabinda, a cornerstone of Angola's economic boom, despite a 2006 peace agreement.
The Cabinda shooting had security forces on edge in the capital Luanda in the run-up to Sunday's opening game. In one incident, police fired into the ground after a driver failed to make a stop, witnesses said.
Goalkeeper Obilale came through surgery in a Johannesburg hospital for gunshot wounds to the lower back and abdomen.
"He is ventilated at the moment, it's still early stages at the moment," a hospital spokeswoman said. "He is in critical condition but he stable."