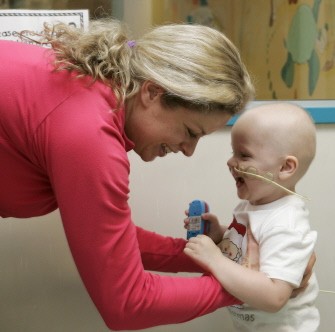 Kim Clijsters interacts with a young boy while on a visit to the Royal Brisbane Children's Hospital in Brisbane on December 31, 2009. AFP PHOTO
BRISBANE, Australia, Jan 1, 2010 (AFP) - All eyes will be on Belgian comeback queens Justine Henin and Kim Clijsters when the second Brisbane International tennis tournament begins on Sunday.
Former world number one Henin is using the Brisbane tournament to launch her return to professional tennis, while Clijsters will be out to maintain the momentum of her 2009 comeback, which breathed new life into the women's professional tour thanks to her win at the US Open in August.
With the tournament also featuring Serbia's glamourous Ana Ivanovic and Russian Nadia Petrova, the women have garnered almost all the attention despite the presence in the men's draw of players such as Andy Roddick and Gael Monfils.
The 27-year-old Henin sent an ominous warning to her rivals when she arrived in Brisbane this week claiming she would become a better player than when she retired in May 2008.
The Belgian spent a total of 117 weeks at number one and claimed 41 singles titles, including seven Grand Slams.
She announced her comeback in September, soon after her compatriot and fierce rival Clijsters won the US Open, and said this week she would return to the tour a more relaxed player.
"I believe I can be a better player," Henin said. "I believe I can use my experience more than in the past.
"When you are (playing at) 200 percent you have no time to realise it.
"You are too involved all the time, and all this time off helped me to realise everything I achieved.
"What I can say is I know myself much better and that's the most important thing."
Clijsters' manager said the world number 18's priority in Brisbane was introducing daughter Jada to a koala.
Another former world number one, Ivanovic, will be hoping the tournament marks her return to the top flight after a loss of form and a run of injuries saw her ranking fall to 22.
Ivanovic, already a crowd favourite in Australia because of the country's large Serbian community, has endeared herself to locals even further thanks to her relationship with Queensland golfer Adam Scott, with newspapers renaming her "Aussie Ana".
"It wasn't an easy year but I learned a lot," the Serb said of her poor 2009.
"I just want to focus on the big picture now and get lots of matches in.... I just want competition -- I really missed it.
"I want to go in without expectations but I know if I perform well I can reach the final."
Clijsters looks likely to be named top seed for the tournament, ahead of Petrova, Ivanovic and Slovak Daniela Hantuchova.
The men's draw is headed by Roddick, Monfils, and Czech duo Radek Stepanek and Tomas Berdych.
The tournament also features Frenchman Richard Gasquet, who was given the all-clear from the Court of Arbitration for Sport to play in Australia following a three-month ban for cocaine use.
The CAS accepted Gasquet's argument that the small traces of the drug in his system were the result of kissing a girl in a Miami nightclub, rejecting an appeal for a harsher sentence by the International Tennis Federation.