LONDON, Dec 20, 2009 (AFP) - Chelsea manager Carlo Ancelotti insists John Terry has nothing to hide after a newpaper report on Sunday accused the England captain of accepting a financial payment to provide a tour of the club's training ground.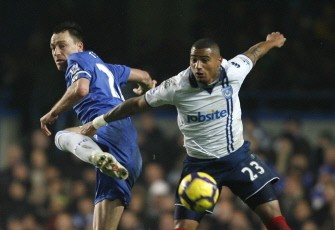 Chelsea's Captain John Terry (L) vies with Kevin-Prince Boateng of Portsmouth during a Premier League match at Stamford Bridge in London, England on December 16, 2009. AFP PHOTO
The News of the World alleged that Terry, who captained the Blues in Sunday's 1-1 draw at West Ham, arranged the visit to Chelsea's Cobham headquarters for three undercover reporters posing as businessmen without permission from Ancelotti.
It is claimed that Terry took a 10,000 pounds payment, 8,000 pounds of which he wanted to go to the 'Make A Wish' charity for children with the other 2,000 pounds going to a middleman.
The paper has secretly recorded video footage of the negotiations, but Ancelotti gave the defender his full support after the draw at Upton Park.
"This is not true. I think the club, me and players have a lot of confidence in John Terry and he did nothing wrong," Ancelotti said.
"It is not neccessary that I watch a video. I have a lot of confidence in my captain."
Ancelotti insisted Terry had been unaffected by the allegations as he prepared for the West Ham match. "He was very quiet, very calm and very concentrated before the game," the Italian added. "He played a good game. He did his job."
A Chelsea spokesman said earlier Sunday: "Chelsea FC host a large number of visitors at the training ground throughout the year, the majority of which are made up of club sponsors, our charity partners and supporters.
"The players play a big part in these visits and John Terry naturally has a leading role, hosting a significant number of children and their families this season through our partner charities 'Help A London Child' and 'Right To Play.'
"John has also organised a number of visits for families with sick children as a result of personal correspondence.
"Contrary to media reports and the appearance of edited video this morning the club is confident that at no time did Terry ask for or accept money in relation to visits to the training ground."
Chelsea did concede that they will be stepping up security procedures as a result of the report.
The statement added: "Chelsea FC gives our players room to exercise their own discretion when contacted personally with regard to visits and the club keeps security and access to the training ground at Stamford Bridge under constant review.
"However, as a result of the security breach highlighted by today's article we will be further reviewing access to our facilities and clamping down where there are gaps in the process."