CABINDA, Angola, Jan 11, 2010 (AFP) - Angolan security forces have sealed off the complex housing the football teams contesting the Africa Cup of Nations in restive Cabinda province, hoping to ward off any new separatist attack.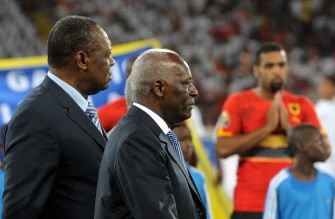 Angolan President Jose Eduardo dos Santos (R) and African Confederation Association (CAF) president Issa Hayatou open the first match of the African Cup of Nations football championships CAN2010, between Angola and Mali, at November 11 stadium in Angola's capital Luanda on January 10, 2010. AFP Photo
Since Friday's attack on Togo's squad that killed two people, little has changed in the small town of Cabinda. But the complex dubbed an "Olympic village", now housing Burkina Faso, Ghana and Ivory Coast, has been cut off from the world.
Police and soldiers patrol the village's perimeter on foot, in all-terrain vehicles, and on motorcycles. Highly visible special forces, known as "Ninjas" and feared throughout the province, wear sombre uniforms and carry AK-47s.
"Right now there are more police than normal," said 29-year-old Jean-Baptiste Mataia. Normal in Cabinda means one soldier for every 10 residents.
After the 2002 ceasefire that ended 27 years of civil war in the rest of the country, Angola deployed 30,000 soldiers to Cabinda to crush the separatist rebellion, according to Human Rights Watch.
It's a costly military campaign that Angola sees as essential to safeguarding its control over a tiny province of just 7,300 square kilometres (2,800 square miles), squeezed between the Congo-Brazzaville and the Democratic Republic of Congo.
Much of Cabinda's value lies underground, with wells that pump more than half of the oil that made Angola the top producer in Africa last year.
The government in Luanda has for years tried to project an image of peace in the province, but that illusion was shattered Friday with the separatist attack on Togo's football team, killing two of the squad in a 20-minute gunbattle with security forces.
Togo pulled out of the competition, but Angolan President Jose Eduardo dos Santos -- in power for 30 years -- decided not to move the matches scheduled for Cabinda.
The government has repeatedly assured the tournament's organisers, the Confederation of African Football (CAF), that all the squads will be safe through the final on January 31.
State media are also pushing the government effort.
"Radio and TV are asking the people to mobilise against people from the opposition," Mataia said.
"After the attack against Togo, security has been reinforced for the players and the matches. There is now total security, people are not afraid," he added.
Andre Kuango, coordinator of the Cabinda Forum for Dialogue, which groups ex-rebels and civil society to negotiate with the government, said that it was safe to move around Cabinda.
"In my opinion, Cabinda doesn't fear another attack like that, but it can't be ruled out," he said. "Some elements could have infiltrated."
But he insisted: "Security is going to be reinforced, like CAF wanted."
One trader in the town, however, remained cautious.
"No one expects an attack against residents," he said, but added: "We might wait a while before leaving town."