Arsenal have signed striker Eduardo da Silva on a four-year deal from Croatian side Dinamo Zagreb to boost their strike-force following the transfer of Thierry Henry to Barcelona.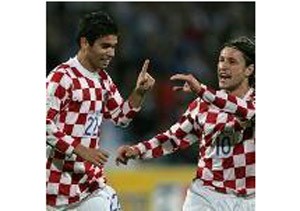 Eduardo da Silva, pictured celebrating his hat-trick goal for Croatia against Israel, became the first player to score a treble in the Eternal Day on Sunday
The fee was believed to be around £6 million (8.8 million euros)
The 24-year-old was born in Brazil, but having moved to Europe at the age of 15, he took Croatian nationality in 2002.
Da Silva scored the first competitive goal at Emirates Stadium when the Gunners beat Dinamo during last season's UEFA Champions League third qualifying round in late August.
He has also scored seven goals in 12 appearances for Croatia, including one against England during the 2-0 UEFA EURO 2008 qualifier victory in Zagreb last October.
Manager Arsene Wenger had been keen to recruit a proven goalscorer, with Newcastle duo Obafemi Martins and Michael Owen reported to be on his shopping list.
However, the Gunners boss is now likely to turn his attentions to defensive cover following the signing of da Silva, who finished the Croatian season as their top scorer with a record 34 goals.