WELLINGTON, Nov 13, 2009 (AFP) - Footballing minnows Bahrain are bidding to become the smallest nation ever to qualify for the World Cup when they take on New Zealand in a make-or-break qualifier Saturday.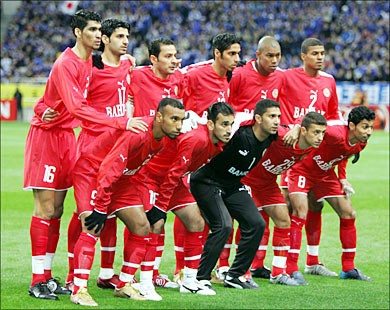 Bahrain's national squad
The island state fell at the final hurdle on the way to the 2006 World Cup and are desperate to avoid a repeat.

After a scoreless first leg draw in Manama last month, things are evenly poised with New Zealand, who will also be keen to bag a spot at football's premier event for the first time since 1982.
Bahrain almost made the grade in 2005 when the wealthy Middle East kingdom of 725,000 people drew against Trinidad and Tobago in the away leg of its final qualifier but then lost the decider 1-0 in front of a shocked home crowd.
"We have some players who remember this game and of course they are sad and disappointed because the first game brought a draw in (Trinidad and) Tobago and afterwards they lost everything at home in front of their supporters," Bahrain coach Milan Macala told a press conference in Wellington Friday.
Now at the same stage of the qualifiers, Bahrain has the opportunity to consign 2005's disappointment to history.
Macala said even for those players who did not play four years ago, the loss would serve as motivation in the current campaign.
The coach said he was disappointed his team, which finished fifth in the Asian qualifying zone, did not win the first leg after dominating much of the 90 minutes against the Oceania champions.
"I think we were the better team, but here maybe the situation will be a little different."
Bahrain is 22 places above New Zealand in the world rankings at 61, but Macala was dismissive of their importance, saying he respected the spirit of New Zealand and their strike power up front.
New Zealand needs to win, with a scoring draw as good as a win for their opponents because away goals count for more than those scored at home.
A scoreless draw will see the match go into extra time and -- if needed -- a penalty shootout.
New Zealand coach Ricki Herbert says the All Whites know they need to take a positive approach if they are to make their first World Cup finals appearance for 28 years.
"We will be absolutely on the front foot from the whistle," Herbert told journalists.
Herbert and his team are in an unaccustomed spotlight in rugby-mad New Zealand as football for once takes centre stage.
Wellington's stadium -- known as the Cake Tin -- has been sold out for weeks and the All Whites will have the noisy support of 35,500 fans, the biggest ever football crowd in New Zealand.
"It's going to be a great place to be on Saturday," Herbert said.
But he also knows it will take more than crowd support to overcome a Bahrain side he describes as technically good, with plenty of pace.
"I think they'll keep coming and I think that's been evident in their away fixtures and in some cases you can argue they've been a better team away from home," he said.
"We're under no illusion on what the task is going to be tomorrow night."
For New Zealand, midfielder Simon Elliott is yet to be confirmed fit as he recovers from a hip strain.
Much will depend on strikers Shane Smeltz -- the top scorer this year in Australia's A-League, Rory Fallon of English side Portsmouth and Celtic's Chris Killen, with teenager Chris Wood of West Bromwich Albion likely to be on the bench.
Captain Ryan Nelsen of English premiership side Blackburn Rovers will be the key figure in defence with his top flight experience.
Bahrain will be without striker Ala'a Hubail, who was injured soon after the first leg and fellow forward Hussail Ali, who is recovering from a knee injury.