Korea are in danger of making an early exit from the 2007 Asian Cup after a late goal by Ismail Abdullatif gave Bahrain a priceless 2-1 win over the Koreans in their Group D clash at Gelora Stadium on Sunday.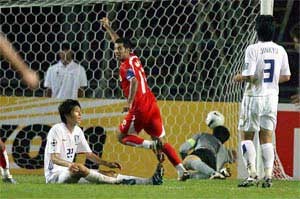 Bahrain's skipper Mohamed Salmeen (red) celebrates teammate Ismail Abdullatif's winning goal against Korea
Kim Do-heon put Korea in front with a volley four minutes after kickoff, but Salman Isa restored parity with two minutes left in the half before Abdullatif cemented the score line with a fine finish.
The win gave the Bahrainis their first points of the tournament, having lost their opening game to Indonesia. And it's the Indonesians that Korea must now beat in their final game today to have any hope of progressing.
Bahrain, meanwhile, will meet Group D leaders Saudi Arabia in their final game and will need a win against their Gulf rivals to be sure of a berth in the final eight.
Pim Verbeek's players were the fastest out of the blocks and they took the fourth-minute lead when Kim Do-heon beat goalkeeper Abdulrahman Ahmed with a fine left-foot volley from inside the box.
Kim's goal took the early sting out of the game as the Koreans sought to control the tempo, and it was a tactic that paid off for a while.
Salman Isa put Bahrain level in the 43rd minute when he turned in to pick up Abdulla Marzooqi's free-kick before sending a left-footed shot that beat goalkeeper Lee Woon-jae at his near post.
The Koreans came out strongly at the start of the second half, looking to regain the lead and going agonizingly close on several occasions.
Lee Dong-gook's shot from outside the penalty area flew just wide two minutes after the restart and seven minutes later he dragged another effort across the face of the goal.
However, pressing for the second goal created gaps in Korea's defense, allowing Bahrain to secure the match when a cross from substitute Talal Yusuf left Abdullatif unmarked and he made no mistake with a fine right-foot finish.

Group D
 
P
W
D
L
Pts

Saudi Arabia

2
1
1
0
4
Indonesia
2
1
0
1
3
Bahrain
2
1
0
1
3
Korea
2
0
1
1
1