British bank Barclays said on Thursday that net profit slumped 35 percent in the first half, hit by write-downs of 2.1 billion dollars (1.4 billion euros) for the US subprime housing and credit crises.
Barclays, the third-biggest British bank by market value, said in its results statement that profit after tax had tumbled to 1.72 billion pounds (2.17 billion euros, 3.35 billion dollars) in the first half compared with the figure for the January-June period in 2007.
Analysts had expected a drop of 43 percent, according to Dow Jones Newswires.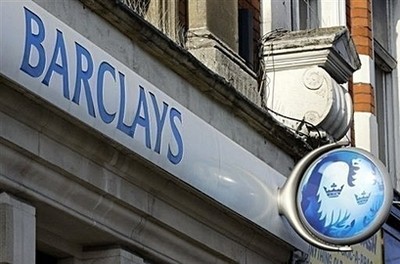 A Barclays branch in London.
Pre-tax profit dived 33 percent to 2.75 billion pounds. The bank's share price showed a loss of 1.69 percent at 363 pence in early trading on London's FTSE 100 share index, which was up 0.22 percent.
"Although I take some comfort from our relative performance in managing our risks and in generating income, a decline in (pretax) profit of 33 percent is acutely disappointing," Barclays chief executive John Varley said in the statement.
"We have experienced significant writedowns (...) it would be wrong in this review to suggest that the market conditions over the foreseeable future will be anything other than tough, not least because we are now seeing the impact of slowing economies around the world and that means that we must remain very vigilant to managing risk," Varley added.
Barclays said bad debt charges, included the writing off of consumer loans, rocketed 155 percent to 2.45 billion pounds in the first half compared with the same period in 2007.
Charges related solely to the US subprime mortgage crisis and "other credit market exposures" totalled 1.11 billion pounds (2.1 billion dollars) in the first half.
The US subprime crisis, which began 12 months ago, was brought on by years of a cheap mortgage credit that left many homeowners facing huge debt they were unable to refinance.
A subsequent flood of foreclosures undermined the value of billions of dollars in mortgage-backed assets held by the banks, triggering staggering losses and writedowns on the their balance sheets.
Banks in turn have become less willing to make loans among themselves and to businesses, prompting a worldwide squeeze on credit.
In a bid to boost its capital, Barclays last month raised 4.5 billion pounds by issuing new shares, which resulted in the Gulf state of Qatar becoming the British bank's biggest investor.
Barclays' half-year results meanwhile mirror heavy losses suffered by the vast majority of its British peers during the first six months of 2008.
HSBC, Europe's largest bank, had said on Monday that net profits tumbled 29 percent to 7.72 billion dollars in the first half.
The Royal Bank of Scotland was on Friday expected to unveil the biggest pretax loss in the history of British banking, according to a newspaper report.
RBS was predicted to reveal a pretax loss of at least 1.0 billion pounds for the first six months of the year, said The Sunday Times.
Rescued British bank Northern Rock said Tuesday that the state was boosting its capital by 3.0 billion pounds after it had suffered a first-half loss of 592 million pounds.
The group, which was nationalised after becoming a victim of the global credit crunch, said Britain's Labour government had agreed to convert up to 3.0 billion pounds of its debt into shares to strengthen the bank's balance sheet, subject to approval from the European Commission.
One British bank to have shaken off the credit crisis is Standard Chartered, which this week said its push into Asia, Africa and the Middle East had fuelled a profits surge.
Britain's fourth-biggest retail bank by market value had reported a 32-percent jump in half-year net profit to 1.84 billion dollars, even as bad debt charges rose by 35 percent.