David Beckham expects to make his debut for the Los Angeles Galaxy on 21 July in an exhibition match with FA Cup holders Chelsea after recovering from an ankle injury, according to his manager.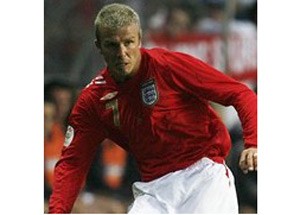 England's David Beckham produces a cross
The 32-year-old midfielder twisted his ankle while playing for England against Estonia in a UEFA EURO 2008 qualifying match a month ago, and aggravated it in his final appearance for Real Madrid 11 days later.
Beckham, who is scheduled to fly into Los Angeles on 12 July, before his official introduction as a Galaxy player the following day, had an ankle scan at the weekend which revealed no long-term damage.
"With the right rest and rehabilitation, he should be able to start training with the Galaxy as planned on Monday, July 16," Beckham's publicist Simon Oliveira told Reuters on Wednesday.
"Although David is being officially presented as a Galaxy player on July 13, he is still on holiday and will have that weekend off before reporting for training on the Monday."
Beckham, who joins Major League Soccer (MLS) side Galaxy from Spanish giants Real Madrid on a five-year deal worth $250 million, faces a busy schedule for the rest of this year.
After his debut against Chelsea at the Home Depot Center in Carson, California, he is likely to play for the Galaxy later this month in the Superliga, a new tournament featuring four MLS teams and four Mexican first division clubs. Beckham's first MLS regular season match is expected to come against Toronto FC in Toronto on 5 August.