David Beckham is unlikely to make his second appearance for Los Angeles Galaxy against Mexican side Pachuca on Tuesday because of his swollen left ankle, says Galaxy coach Frank Yallop.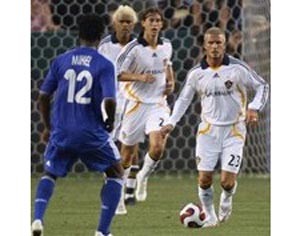 David Beckham of LA Galaxy takes the ball up field
Although Beckham played for 12 minutes in his much-hyped Galaxy debut against Chelsea on Saturday, Yallop said the England midfielder needed more time to recover.
"He didn't train today and he is doubtful for tomorrow," Yallop told a news conference in Hollywood on Monday to launch the inaugural SuperLiga competition. "He's getting normal ice treatment and a lot of massage to try and get the swelling down.
"His ankle is still a little bit tight, although it has improved over the last week. But he needs to get to a point where he's comfortable. We will have another look in the morning and, if it looks really good, then you never know. He might come on toward the end. But realistically we will probably wait until the weekend."
The Galaxy are scheduled to host Pachuca at the Home Depot Center on Tuesday in their opening SuperLiga match, before taking on Mexican club Guadalajara at the Los Angeles Coliseum on Saturday. The SuperLiga, which offers $1 million to the inaugural champions, is an eight-team competition featuring four Major League Soccer sides from the USA and four teams from the Mexican top flight.
Beckham, one of the most recognisable players in the game, would be a headline attraction in the SuperLiga but the Galaxy have the longer-term picture in mind. "We want to make sure David is 100 percent," Galaxy president and general manager Alexi Lalas said.
"We have games next week, next month and over the next five years. Everyone will get their chance to see David Beckham."