Liverpool boss Rafael Benitez confirmed on Saturday that Craig Bellamy and Djibril Cisse were leaving Anfield.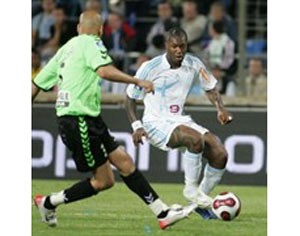 Marseille's forward Djibril Cisse (R) vies with Sedan's defender Nicolas Martin (L)
Wales international Bellamy completed a deal taking him to English Premiership side West Ham United, while Frenchman Djibril Cisse put pen to paper on a permanent move to French first division side Marseille, where he spent last season on loan.
And the Anfield manager, who had just witnessed a youthful Liverpool side win a pre-season friendly at Wrexham 3-2, insisted that any move to bring Yossi Benayoun to the club would be a separate deal.
Benitez, who has also allowed reserve winger Paul Anderson to join Swansea on a season-long loan, said: "The deals for Bellamy and Cisse are completed.
"And any move for Benayoun to join us from West Ham will not be linked with the Bellamy sale. We have made an offer which has been rejected.
"He is a player I like and would want to sign, and I believe he wants to join us, but that deal will be separate now. We will have to wait and see what happens now next week."
West Ham had attempted to use Benayoun as a straight swap for Bellamy, but Liverpool consider the Israel captain is worth around £4 million pounds (5.9 million euros), and that offer has been rejected by the Hammers.
Cisse was also the subject of a late move by West Ham, but the French international wants to stay with Marseille, after a season on loan there. His fee is believed to be around £6 million pounds (8.8 million euros).