English football legend Bobby Charlton arrived in Cambodia on Tuesday for a goodwill visit that is hoped to boost the country's ailing football programme.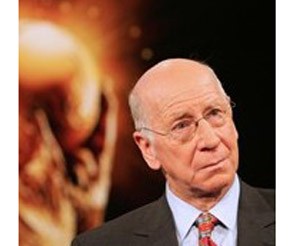 English football legend Sir Bobby Charlton
"Everyone's waiting for Cambodia. Vietnam and China, everyone else are just very happy playing football in Asia, so Cambodia is next," Charlton told reporters as he left Phnom Penh airport.
During his four-day visit, Charlton said, he will take part in a landmine victim awareness programme.
"We are going to try to teach young people how to recognise the dangerous mines that are still around," Charlton said.
His visit is also intended to breathe some life into Cambodia's ailing football side.
Battered by its opponents abroad and beset by scandal at home, the national team is currenly ranked 169th in the world.
A consummate sportsman rated as one of England's best-ever footballers, Charlton retired in 1973.
He scored 49 goals in 106 international matches, and was crucial to England's 1966 FIFA World Cup victory.