Colombia and Brazil kicked off their 2010 FIFA World Cup South Africa™ qualifying campaigns with a 0-0 draw in Bogota on Sunday.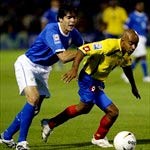 Colombia's Estiven Velez dribbles past Brazil's Kaka October 14 2007 (Photo: Reuters)
The only team to have played at all 18 editions of the FIFA World Cup, Brazil are likely to be happier with the point given that they failed to play the free-flowing football for which they have become renowned.
Despite making wholesale changes from their Copa America Venezuela 2007 squad and fielding an inexperienced team, Colombia had most of the pressure and Brazil became less adventurous as the game went on
The match kicked off 45 minutes late after a torrential downpour left puddles on the pitch but the water drained away quickly.
Backed by a passionate crowd at the El Campin stadium, Colombia took the game to Brazil and Radamel Falcao went close after a well-worked move from a free-kick in the third minute.
Colombia striker Wason Renteria twice forced Brazil goalkeeper Julio Cesar to make difficult saves from headers before the break.
Brazil's best first-half effort came when Ronaldinho had a shot from a narrow angle turned around the post by Agustin Julio.
Colombia continued to press forward after half-time and Julio Cesar was forced to parry a long-range shot from substitute Freddy Grisales.
Aldo Ramirez also tested the goalkeeper with a low drive, but Colombia were unable to find their way past a packed Brazil defence.
Midfielder Mineiro had Brazil's only second half scoring chance when his 25-metre drive was turned away by Julio.