Japan will host an international double-header, including a senior friendly with Cameroon, on 22 August, officials confirmed on Friday.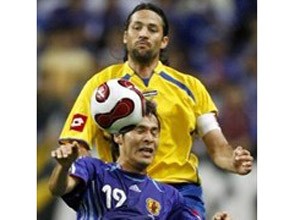 Japanese forward Naohiro Takahara (front) battles for the ball with Colombian defender Mario Yepe
Japan take on Cameroon in a full international in southern Kyushu while U-22 side face Vietnam in their opening game of the final round of Asian Olympic qualifiers in Tokyo.
On the same day Japan face Nigeria in the Korea Republic in the U-17 FIFA World Cup.
Japan's senior side will be bidding for a third straight AFC Asian Cup title at the 2007 tournament next month.
Ivica Osim's side take on Qatar in their opening match in Hanoi on 9 July and also face co-hosts Vietnam and the United Arab Emirates in the group stage.