As was the case on the previous night, home comforts counted for little in the UEFA Champions League on Wednesday, with only one team winning at home, six losing and the other managing a draw.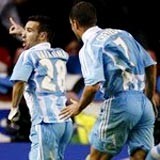 Olympique Marseille's Mathieu Valbuena (L) celebrates with teammate Benoit Cheyrou
Last season's finalists struggled on Wednesday, with AC Milan slipping to a 2-1 defeat in the dying seconds against Celtic while Liverpool were surprised at home 1-0 by Marseille, to the delight of the French side's new coach Eric Gerets.
Match of the day
Valencia1-2Chelsea
Goals: David Villa (9') for Valencia, Joe Cole (21') and Didier Drogba (71') for Chelsea.
Avram Grant ended up a winner in his first European match in charge of Chelsea. As was the case in the corresponding fixture last year, Valencia opened the scoring through David Villa, on 9 minutes, but the Londoners turned the tide thanks to two pieces of individual skill. First, Florent Malouda nipped in behind the Valencia defence before firing across a low cross which Joe Cole turned in at the back post, and then Didier Drogba latched on to Cole's superb through ball to strike the winner. It may not have been very pretty to watch overall, but all that matters for the Blues are the three points.
The surprise result
Liverpool0-1 Marseille
Goal: Mathieu Valbuena (78')
Marseille became the first ever French club to win at Anfield, succeeding where others had failed on nine occasions. With new coach Eric Gerets spurring them on, Marseille belied their lowly Ligue 1 position and played some flowing football, creating most of the better chances. In the end, it was youngster Mathieu Valbuena, playing in his first UEFA Champions League match, who notched the winner, curling an exquisite strike into the top corner from outside the box.
Goal of the night
Lazio 2-2 RealMadrid
Ruud van Nistelrooy climbed to the top of the UEFA Champions League scoring charts with a brace on Wednesday night, the second yet another illustration of what an accomplished striker he is. Sent clear by Raul, with whom he seems to have struck up an excellent understanding, the Dutch striker used his muscle to fend off Guglielmo Stendardo before chipping the ball past keeper Marco Ballota. A pearl of a goal and one that shows that Ruud is back to his best...
Lessons learnt
Marseille now top Group A. Their 1-0 win over Liverpool leaves them on maximum points, two clear of Porto, who won 1-0 at Besiktas. Last year's finalists Liverpool are five adrift of the leaders. In Group B, Chelsea lead on 4 points, one clear of Valencia after their 2-1 away win over the Spaniards. The latter are level on points with Schalke 04, who beat Rosenborg 2-0 in Norway.
In Group C, Lazio and Real Madrid finished 2-2, while Olympiakos recorded a sensational 3-1 win away to Werder Bremen, putting them level with the Spanish champions at the top of the group. The two leaders will face each other on the next matchday in Madrid. Finally in Group D, things are looking as bleak in Europe as they are on the domestic front for AC Milan. Despite a Kaka penalty, they went down 2-1 in Glasgow to Celtic, which allowed Shakhtar Donetsk to go top of the group with a 1-0 win away to Benfica.
Tonight's number - 43
Marco Ballotta may be 43 years and six months old, but the Lazio goalkeeper has no intention of hanging up his gloves. "I'll carry on playing at the highest level for as long as I feel up to it," he said, giving no indication as to when he would finally retire.
History
Last season, Chelsea just about got the better of Valencia over two legs in an epic quarter-final tie. Didier Drogba cancelled out David Silva's strike in the first leg at Stamford Bridge, and Valencia again opened the scoring in the return leg at the Mestalla, this time through Fernando Morientes, with Andriy Shevchenko equalising for the Londoners. Extra time looked to be on the cards until Michael Essien popped up with a last-gasp winner to send Chelsea through to the semi-finals for the second time in three years.
Results
Group A
Liverpool 0-1 Marseille
Besiktas 0-1 Porto
Table:
1. Marseille, 6 points
2. Porto, 4 points
3. Liverpool, 1 point
4. Besiktas, 0 points
Next round of matches, to be played on 24 October:
Besiktas - Liverpool and Marseille - Porto
Group B
Valencia 1-2 Chelsea
Rosenborg 0-2 Schalke 04
Table:
1. Chelsea, 4 points
2. Valencia, 3 points
3. Schalke 04, 3 points
4. Rosenborg, 1 point
Next round of matches, to be played on 24 October:
Rosenborg - Valencia and Chelsea - Schalke 04
Group C
Lazio 2-2 Real Madrid
Werder Bremen 1-3 Olympiakos
Table
1. Real Madrid, 4 points
2. Olympiakos, 4 points
3. Lazio, 2 points
4. Werder Bremen, 0 points
Next round of matches, to be played on 24 October:
Werder Bremen - Lazio and Real Madrid - Olympiakos
Group D
Celtic 2-1 AC Milan
Benfica 0-1 Shakhtar Donetsk
Table:
1. Shakhtar Donetsk, 6 points
2. AC Milan, 3 points
3. Celtic, 3 points
4. Benfica, 0 points
Next round of matches, to be played on 24 October:
Benfica - Celtic and AC Milan - Shakhtar Donetsk