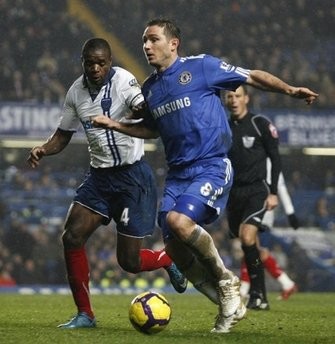 Chelsea's Frank Lampard (right) vies with Portsmouth's Aaron Mokoena during their Premier League match at Stamford Bridge in London, on December 16. (AFP photo)
LONDON, Dec. 19 (AFP) – Fresh from putting Chelsea's Premier League title drive back on track, Frank Lampard returns to West Ham this weekend admitting he fears for the future of his relegation-threatened former club.
Hammers boss Gianfranco Zola was one of Chelsea's greatest ever players but that will not stop Lampard and co. from trying to push his second-from-bottom squad a little closer to the drop as they seek to consolidate their three-point lead over Manchester United at the other end of the table.
By the time Chelsea kick off at Upton Park on Sunday, United could be level with them on points provided Sir Alex Ferguson's injury-hit squad collect all three points from their trip to Fulham 24 hours earlier.
Lampard, whose penalty clinched a nervy 2-1 win over Portsmouth in midweek, said: "It's difficult for West Ham at the moment. They have a lot of financial difficulties and have had to sell a lot of players.
"I don't want to see them do badly at all -- it is difficult but then it is a difficult league."
The win over Portsmouth's was Chelsea's first in five matches in all competitions but did little to suggest Carlo Ancelotti's side have fully recovered the composure and confidence that has deserted them over the last few weeks, notably in their defending of set pieces.
Chelsea are hopeful that Didier Drogba, whose absence with a back injury was felt on Wednesday, will be available on Sunday. But it must be a concern for Ancelotti that the striker will depart for the African Nations Cup next month at a time when United traditionally hit their stride.
Lampard is acutely aware it was a mid-winter cocktail of injuries and lost form that ensured Chelsea conceded last season's title to their rivals in the north.
"We had a really bad time around this time last year but when Guus Hiddink came in (as temporary manager) we were in the best form by far of anyone in the League. We can do that again.
"We're having a patch at the moment where we're not pulling away from teams when we might do and every free kick and corner seems to drop to them in a funny way.
"We are being punished every time and it is just a phase we're in. We're going 1-0 up and then not pushing on like we were a few games ago. It's a problem."
Ferguson is expected to deploy Belgian youngster Ritchie de Laet at centreback at Fulham, having been left with Patrice Evra as his only fit first-team defender.
"We just have to get on with it," the Scot acknowledged. "Ritchie has showed some promise and he will probably be there on Saturday."
Arsenal's title hopes were hit by a 1-1 draw at Burnley in midweek and Arsene Wenger's side entertain Hull on Saturday without injured skipper Cesc Fabregas.
It will be the Gunners' third match in seven days while Hull have had since last Saturday to recover from their goalless draw with Blackburn, an anomaly of the fixture list that has infuriated Wenger.
"The guy who organised the fixtures this season must have come out of a special school, because he is more intelligent than I am," the Frenchman sniped.
Aston Villa will look to consolidate their position in the top four at home to Stoke on Saturday while Tottenham, two points back in fifth spot following their win over Manchester City in midweek, travel to Blackburn.
Liverpool's ability to overhaul Villa and Spurs will be tested by a trip to Portsmouth for a lunchtime fixture in which the first goal will set a new record.
Nets have bulged 499 times in 167 matches so far this season and a goal at Fratton Park would see the 500 milestone reached with 17 matches to spare compared to the previous Premier League record, set in 1994/95.
High-flying Birmingham face a tough task if they are to keep their five-match winning run going at Everton on Sunday, and Wolves fans will find out if manager Mick McCarthy's controversial decision to rest most of his first-choice players against Manchester United in midweek was the right one.
Wolves take on Burnley in the kind of fixture McCarthy believes they must start winning if they are to get out of the bottom three.