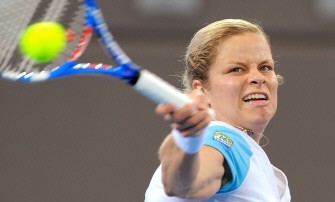 Kim Clijsters hits a forehand return on the way to defeating Andrea Petkovic of Germany in their semi-final match at the Brisbane International tennis tournament on January 8 (AFP photo)
BRISBANE, Australia, Jan 8, 2010 (AFP) - Belgian comeback queens Kim Clijsters and Justine Henin followed the script to the letter on Friday to reach the final of the Brisbane International tennis tournament.
Henin demolished third seed Ana Ivanovic 6-3, 6-2 to win the first semi-final while Clijsters was made to work much harder before overcoming unheralded German Andrea Petkovic 6-4, 6-2.
Henin, granted a wildcard to play this week, was ruthless as she disposed of Ivanovic in just 65 minutes.
There were no signs of any of the rustiness she displayed in her epic three-set win over Melinda Czink in Thursday's quarter-finals as she broke Ivanovic three times in either set.
And while Ivanovic, like Henin a former world number one, was able to break the Belgian's serve in each set, Henin came back even harder to break back almost immediately and underline her complete dominance.
"I'm in the final of my first tournament back -- it's a great feeling," Henin said.
"It's a surprise of course, because it's not as easy as it may seem, because 18 months with no competition is not that easy."
Clijsters looked on course for a similarly easy ride when she broke Petkovic in the opening game of the match.
But the German refused to buckle to her more illustrious opponent and broke back later in the set to get the match back on even terms.
However, the greater experience of Clijsters began to tell and she gradually wore her opponent down, taking the match in one hour and 20 minutes.
Henin and Clijsters have set the tennis world alight since their respective comebacks.
Clijsters, who retired in May 2007 and had a baby girl, set the ball rolling when she came back midway through last year to sensationally win the US Open.
Soon after that triumph, Henin announced she too would end her retirement at the start of this year, with the Brisbane International marking her return to the court.
From the moment Clijsters, 26, and Henin, 27, found themselves in opposite halves of the draw, the prospect of the pair meeting in Saturday's final has been the tournament's main talking point.
Fierce rivals on the court, their careers have also been marred by speculation of severe rifts off the court.
Henin, while admitting they weren't close friends, was keen to play down any talk of bad blood.
"Just because we are from the same country does not mean we have to be best friends," she said.
"(But) there is so much respect between the two of us.
"I know sometimes people would love to hear that there have been problems between us but it's not the case.
"I respect her personally and I respect her play and I think it's the same for her."
Henin said it was simply a case of two different personalities.
"We are so different. We have good memories of when we were younger and we were travelling a lot to the same tournaments, but after that we grew up differently -- we went in different directions," she said.