Tennis fans worldwide will no more see Conchita Martinez, former Spanish No.1 on World Tennis Association tours from now on.
The 34-year old Spanish female player has said good bye to WTA's singles competitions after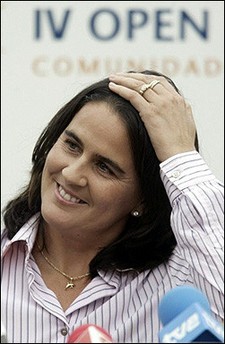 A charming Martninez on an interview
spending 18 years on WTA tours.
Conchita Martinez, one of the most recognized female players, called an end to her 18 –year career due to a severe injury on her Achilles tendon.
Martinez was most remembered for her Grand Slam single title in Wimbledon 1994 when she defeated 37-year-old nine-time winner Martina Navratilova in the title match.
"I have had a lot of time to think and have decided the best thing for me is to quit from singles competition." Martinez said emotionally with her own decision, "I have had so many great moments during my 18-year professional tennis career. The most precious moments that will always holds a very special place in my heart are winning medals for my country during the latest Olympics and helping Spain win five Fed Cup titles and winning the Wimbledon title in1994," she added.
To her partners, Martinez laid good impressions on them due to her good manner. "We have shared great moments as partners during our careers, especially during France and Athen Olympic games and Fed Cup," said four-time major winner and fellow Spaniard Arantxa Sánchez-Vicario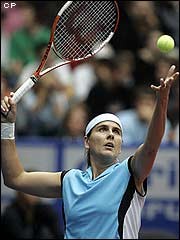 Martninez 's serving
When asked what she would do after her retirement from tennis, Martinez said, "I am leaving open the slight possibility of playing doubles at some point in the future, depending on the status of my injury following surgery."
Martinez's contribution to popularizing sport in her native Span, as well as globally, has helped make women's tennis the leading sport for women. She will be missed by many adoring fans and her partners.