PARIS, Nov 3, 2009 (AFP) - Five-times kings of Europe Liverpool could be facing an early Champions League exit if they fail to put massive injury woes behind them to beat Lyon in France on Wednesday.
While Lyon, Sevilla and Arsenal look to build on solid campaigns so far by qualifying early for the knockout phase, the writing is on the wall for Rafael Benitez's stuttering Reds.
Liverpool's domestic worries worsened at the weekend when both Jamie Carragher and Philipp Degen were sent off during a 2-1 defeat at Fulham.
It was Liverpool's fifth defeat in 11 English Premier League games this season but if Benitez is worried at the lack of domestic bliss the Spaniard should be even more concerned about not being able to fall back on, and remain competitive in, the Champions League.
Making Wednesday's task harder is the fact Steven Gerrard and Fernando Torres are both struggling for fitness, while reports claimed Monday that up to 12 players could miss the match through injury.
If Lyon win and Fiorentina beat Hungary's Debrecen in Italy, Lyon will remain top of Group E, on 12 points, with Fiorentina on nine. Liverpool, on three points, would then have two games in which to make up what would be a massive deficit.
When Benitez was asked about his future after the Fulham game, Benitez simply replied: "My future is against Lyon."
But the under-pressure Spaniard sounds increasingly like a desperate man.
"We have to think about what we have to do now. We have too many injuries and I have to analyse how many players I have available," he said.
Despite currently playing second fiddle in the French league to champions Bordeaux, Lyon are, in contrast, in rude health as they bid for their fourth group win having beat Liverpool at Anfield last time out.
Lyon coach Claude Puel had Bafetimbi Gomis to thank for the goal which gave his side a 1-0 win over derby rivals Saint Etienne at the weekend.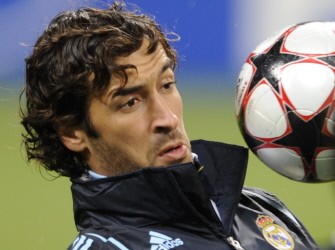 Real Madrid's captain Raul Gonzalez attends a training session at San Siro stadium in Milan, on November 2, 2009, on the eve of the UEFA Champions League group stage football match between AC Milan and Real Madrid. (AFP photo)
And except for one or two players Puel will have an entire squad at his disposal for a match they can start, theoretically, under no pressure. A draw would see Lyon safely through to the knockout phase.
"It's good that we won the derby, for us and our supporters. It was our third straight match away from home," said Puel.
Other than Lyon, Sevilla are the only other side playing on Wednesday to have won all three games so far.
Having beaten Stuttgart 3-1 in Germany a fortnight ago, Sevilla also have a formidable home record of being unbeaten at home since defeat to Real Madrid in April 2009.
That statistic does not bode well for Stuttgart, who sit below mid-table in Germany and were dumped out of the Cup by Greuther Fuerth last week.
With two wins and a draw Arsenal sit on seven points and they will qualify for the next round if they take three points from AZ Alkmaar at the Emirates.
After drawing with AZ last time out, Spain midfielder Cesc Fabregas said the offence-minded Gunners need to also play tighter if they are to stamp out the kind of mistakes that cost goals.
"Of course we wish we could score four or five goals in every single game, but we must realise that sometimes that is not the way football is and sometimes to win the games, you just have to not make mistakes and work hard to keep the ball better," said Fabregas.
Barcelona outclassed Manchester United in the 2009 final, but Pep Guardiola's reigning champions lead Group F in spite of an inconsistent campaign so far.
After holding Inter to a scoreless draw in Milan, Barcelona followed their 2-0 win over Dynamo Kiev with defeat at home to Rubin Kazan.
The Russians have home advantage on Wednesday when Barca will have to contend with a highly motivated team that is used to playing in the sub-zero temperatures and strong winds that have been forecast.