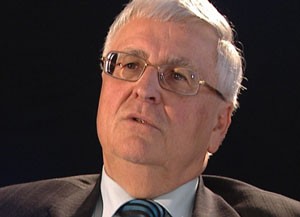 Theo Zwanziger
BERLIN, Nov 21, 2009 (AFP) - Theo Zwanziger, president of the German Football Federation (DFB), on Saturday vowed to punish anyone in Germany involved with the betting scandal which has rocked European football.
European football is reeling after German prosecutors on Friday revealed 200 games are under suspicion of having been rigged in nine countries.
A 200-strong band operating across Europe is suspected of fixing matches in Germany, Belgium, Switzerland, Croatia, Slovenia, Turkey, Hungary, Bosnia-Hercegovina and Austria, prosecutors here revealed on Friday.
By bribing players, coaches, referees and officials to influence matches, the gang is thought to have earned as much as 10 million euros (15 million dollars) in huge bets with bookmakers in Europe and Asia, primarily in China.
German on-line magazine Der Spiegel claimed on Saturday a referee from one of the country's southern regional leagues was bribed in a game here last May and Zwanziger says any DFB members involved will be heavily punished.
"We will punish these people - they do not belong amongst us," Zwanziger said.
"Where there is money, there is also corruption.
"It is important to get the message across that it is not what has happened, but how we handle it now."
Around 300 police carried out around 50 raids last Thursday in Germany, Britain, Switzerland and Austria, arresting 15 people in Germany and two in Switzerland. More than a million euros in cash and property were seized.
Two of those arrested last Thursday included two Croatian brothers living in Berlin, Ante and Milan Sapina, who were at the centre of a match-fixing scandal that rocked Germany in 2004.
Investigators are also looking at 32 matches in Germany, including four in the second division, three in the third, 23 games in regional leagues and two under-19 clashes.
Elsewhere, 29 matches in Turkey from the first division downwards, 14 in Croatia's first division, 13 in Hungary's first division, eight in Bosnia-Hercegovina's top flight and 11 in Austria's first and second leagues.
In Slovenia, seven games in the first division have raised suspicions, as have 22 league games in the Swiss second division and six friendlies, plus 17 in Belgium's second division, prosecutors said.
They warned that the list could get longer.
The German scandal saw referee Robert Hoyzer jailed in 2005 after admitting receiving almost 70,000 euros (104,000 dollars) and a plasma television from the Croatian brothers to throw games.
The worst European match-fixing scandal to date was the Calciopoli affair in 2006 involving five Serie A clubs, referees and high-ranked Italian football federation (FIGC) officials.
It resulted in heavy punishments for top-flight clubs including Juventus, AC Milan and Fiorentina, with Juventus stripped of the 2004-05 and 2005-06 league titles and were also demoted.