CAIRO, Nov 19, 2009 (AFP) - Egypt suspended its membership of the Union of North African Football Federations on Thursday, complaining that Algerian fans had thrown stones at their supporters during the country's World Cup exit.
The Egyptian Football Federation wrote to its counterparts in Algeria, Libya, Morocco and Tunisia charging that its fans had come under sustained assault during the make-or-break qualification play-off in Khartoum on Wednesday, the state MENA news agency reported.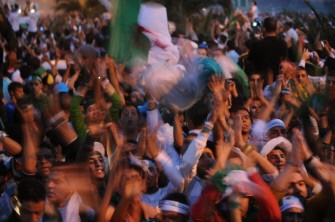 Algerian fans wave to welcome players of the Algerian national football team in Algiers on November 19, 2009 to celebrate their victory over Egypt (AFP photo)
Egypt had already called in the Algerian ambassador and recalled its own envoy from Algiers for consultations in protest.
The game's Sudanese hosts strongly contested Egypt's version of events insisting just four Egyptian fans had sustained minor injuries and calling in the Egyptian ambassador in Khartoum in its own protest.
By contrast, world football's governing body FIFA said that three Algerian players and the goalkeeping coach suffered injuries that "weren't superficial" ahead of Egypt's 2-0 victory in Cairo on Saturday that forced the play-off.
A number of Algerian fans were also injured after the game, triggering attacks against Egyptians and Egyptian interests in Algeria.