England will play Brazil in their first match at the new Wembley on 1 June, the Football Association has announced.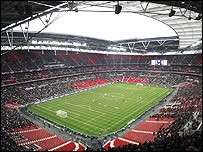 England face Estonia in a Euro 2008 qualifier days after the Brazil game (Photo BBC)
The match - England's first at Wembley for seven years - will provide a test for the side ahead of their Euro 2008 qualifier in Estonia five days later.
FA chief executive Brian Barwick said: "It's a fantastic match to mark the end of seven years on the road."
The FA also said that, from next year, both semi-finals and the final of the FA Cup will be held at the new stadium.
Director of communications Adrian Bevington said: "There will not be any problems with ticket allocations because Wembley will be the biggest stadium in the country to host these games.
"It's a simple equation really - make as many tickets available as possible to the fans."
England's last match at Wembley was the 1-0 World Cup qualifying defeat to Germany in October 2000.
But, following an England under-21 match against Italy last month, played in front of a 55,700 crowd, Wembley has been cleared to host matches again.
During Wembley's £757m reconstruction, England have played at various club grounds around the country.