AC Milan vice-president Adriano Galliani said on Monday that Barcelona striker Samuel Eto'o is their number one transfer target, despite the club being linked with Ronaldinho and Andriy Shevchenko.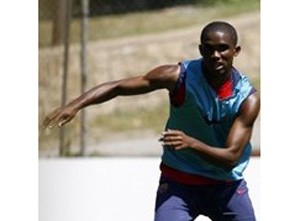 FC Barcelona's Cameroonian player Samuel Eto'o trains at Camp Nou
"Milan's number one target for next season is, and remains, Samuel Eto'o," Galliani said. "If the economic resources are there on our part, and Barcelona say he is available, we will go fo him."
Eto'o, 26, is regarded as one of the deadliest strikers in the world because of his lightning-quick pace and clinical finishing.
The Cameroon international joined Barcelona from Real Mallorca in 2004 and helped them win the UEFA Champions League last year.
Last week AC Milan owner Silvio Berlusconi said his club, who won the Champions League last month, were close to re-signing Shevchenko from Chelsea.
Ukraine international Shevchenko has failed to live up to his illustrious reputation since his £30 million transfer from the Serie A giants last year, scoring just four goals in the Premiership.
Shevchenko joined AC Milan from Dynamo Kiev in 1999 and helped them win the 2002-2003 Champions League and the 2003-2004 Serie A title.