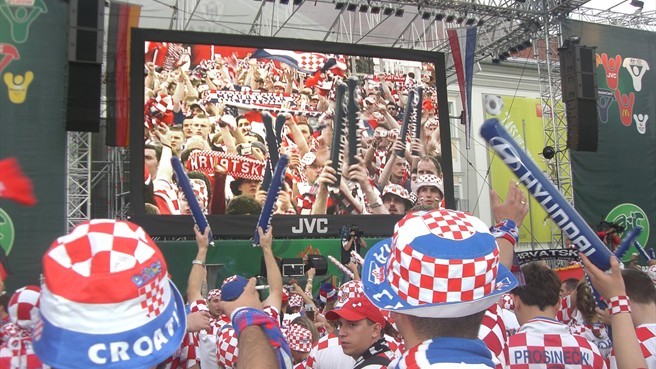 Fans from different nations have good time together at zone

Despite the cool weather, the UEFA EURO 2008 Fan Zones in the eight host cities have already attracted more than one million visitors after five matchdays.
Martin Kallen, chief operating officer of Euro 2008 SA, is delighted by the success of the Fan Zones: "The atmosphere in the Fan Zones is tremendous. Fans from the different nations are having a good time together and creating a friendly mood. The big winners are the fans." Access to the Fan Zones is free. The first matchdays have passed without any significant incidents.

In the Basel Fan Zones, 41,000 watched Switzerland's opening game while 50,000 turned up for their second match. The first events in all the other Swiss Fan Zones also went smoothly. In Geneva on Saturday, some 50,000 Portuguese and Turkish supporters, as well as many Swiss, filled the Plaine de Plainpalais, the biggest Fan Zone in Switzerland; during Portugal's second game against the Czech Republic, 75,000 celebrated at the Fan Zone. On Monday, the Bundesplatz in Berne was a sea of orange, with 50,000 Dutch fans cheering on their team. In Zurich, meanwhile, at the Bellevue Fan Zone, French and Romanian supporters mixed together ahead of their sides' tournament openers; on Wednesday 60,000 fans kept their fingers crossed for Switzerland and Turkey.
Austria, like co-hosts Switzerland, kicked off with a defeat, which did not, however, dampen the atmosphere in the Fan Zones. In Vienna on Sunday, more than 84,000 visitors packed out the largest of the Fan Zones, while for the second match of the evening, Klagenfurt attracted over 35,000 German and Polish fans. The championship got under way in the remaining two venues, Innsbruck and Salzburg, on Tuesday. At Innsbruck's Bergisel-Schanze Fan Zone, spectators watched Spain versus Russia, while in the historic centre of Salzburg, 40,000 supporters saw the European champions take on Sweden.

"The excellent organizational arrangements made by the host cities, as well as the efficiency of the security forces and the police, have contributed to this success," said Kallen. He is confident the Fan Zones in the eight host cities have already attracted more than one million visitors after five matchdays and will continue to be full for the remainder of the tournament.