Roger Federer said he had finally "cracked the code" needed to overcome Rafael Nadal on clay after beating the Spaniard in the Hamburg Masters final.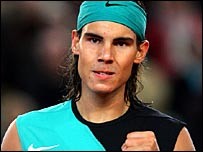 Federer won his first title since Dubai in February
The Swiss won 2-6 6-2 6-0 to take his fourth Hamburg title and end Nadal's record run of 81 straight wins on clay.
"To come through is excellent, I played fantastic, and I really got the feeling in the end I had figured out how to play him," Federer told Five Live.
"But I have to be very careful here not to get too carried away," he added.
"I've won Hamburg for the fourth time but I've never been able to win the French Open."
Roland Garros is the focus now and Sunday's result has cast an element of doubt over the second Grand Slam of the year, as Federer has proved Nadal is not invincible on clay.
"This is the position I wanted to put myself in over and over again and finally I could beat him on clay in a final," said Federer.
"I'm not going to play Nadal in the quarters or the second round because of our rankings - we're always going to play in the finals and I think he hasn't a lost a clay-court final in his life, so it was always going to be very, very difficult for me.
"But I've come into the French Open feeling unbelievable so many times because of Hamburg and I could never really deliver after.
"Everything starts again at zero at the French Open.
"I have to go step by step, it's best-of-five set matches, that's a big difference, and I have to check out the draw and see who I play."
Federer had been struggling to find his best form heading into Hamburg and dispensed with coach Tony Roche two weeks ago following a shock loss to Filippo Volandri in Rome.
"It was a hard decision," said Federer.
"It definitely knocked me down a little bit, that loss in Rome - especially the way I lost. I don't mind losing in two or three sets but the fighting spirit's got to be there.
"Mentally I wasn't really in the match and that's so disappointing.
"To be there with seven, eight thousand screaming people and I'm playing like 'it's OK I'm losing' - that's the attitude I hate."
Nadal admitted he felt "tired mentally" after his epic run of victories but said: "I have had a lot of matches and it's difficult, but I am very happy to have played Hamburg.
"I lost against the number one and one of the best in history. He has unbelievable talent and he can come back at any time.
"I came here and played some of my best tennis and I can't be sad that I lose one match to the world's best player.
"I shall go to the French Open just as confident."