Manchester United manager Alex Ferguson has expressed anger at the conduct of Gabriel Heinze's agent and again vowed to block any move by Liverpool for the Argentinian defender.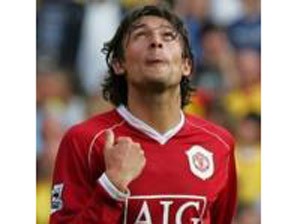 Manchester United's Gabriel Heinze
Liverpool boss Rafa Benitez said Tuesday a legal team has been mobilised after United rejected a six-million-pound bid for the 29-year-old.
But Ferguson repeated his determination that Heinze will not be allowed to move to his bitter rivals.
"There hasn't been any change in our stance because Heinze is not going to Liverpool as far as I am concerned," Ferguson said in Macau where United are on an Asian tour.
"We are examining some of the statements coming from his agent and when the contact was first made, but at the moment we have nothing more to say.
"We are not happy with agent's conduct in the matter and we're examining that."
The deadline for Heinze to invoke a buy-out clause in his contract has now expired. Had the Argentine stated his intent to pay up the remainder of his two-year contract, Ferguson could not have stopped him moving to Liverpool.
Real Madrid and Inter Milan are reportedly monitoring the situation.
Only one person has made the switch from Manchester to Merseyside since World War II when Phil Chisnall joined Liverpool from United in 1962.