DUBLIN, Nov 15, 2009 (AFP) - Ireland coach Giovanni Trapattoni ensured Wednesday's World Cup play-off showdown in Paris against France will be a combustible affair after accusing a French player of insulting behaviour.
France, the 1998 world champions and runners-up in 2006, edged the first leg of the play-off 1-0 in Dublin on Saturday courtesy of a late goal from Chelsea striker Nicolas Anelka.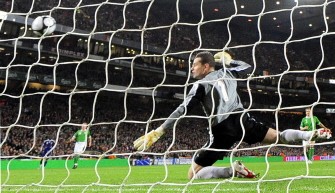 French forward Nicolas Anelka scores in front Republic of Ireland's goalkeaper Shay Given during the first leg of the World Cup 2010 play-off football match Republic of Ireland vs. France, on November 14, 2009 (AFP photo)
The final whistle sparked a mid-pitch clash between the two sets of players at Croke Park with wily Italian Trapattoni hitting out at his French visitors.
"A famous French player (who he refused to name) launched insults at the end of the game against my players and this really surprised me. What he said was insulting for all Irish people in general," he said.
"You cannot do that when you have won."
France did all they came to do, scoring an away goal and keeping a clean sheet in a game in which the second-half performance of both teams was the deciding factor.
French captain Thierry Henry reckoned his team's dominance in the second half meant they were entitled to the slice of luck that saw Anelka's goal take a heavy deflection off Sean St Ledger and past Shay Given in the Irish goal.
"In the second half we passed the ball better than in the first half. We were creating some chances - maybe not great chances - but we had the ball most of the time so maybe that's why we deserved the luck to turn our way," said the Barcelona forward.
His boss Raymond Domenech agreed that France's improved second-half performance was the source of his team's success.
"In the second half we were more ourselves. There were a lot of high balls and that wasn't our game. It's up to us to impose ourselves and in the second half it was definitely better. The main point is that we didn't concede any goals."
Trapattoni agreed that France were the superior team in the second half but he refused to write off his team's chances in Paris on Wednesday where the eventual winner will book their place in the 2010 World Cup in South Africa.
"We are a little bit disappointed because I think the fair result would have been a draw," he said.
"It is possible to score a goal, maybe from a corner or a free kick (in Paris). Maybe the next game we can get this little deflection at the start of the game and it is 1-0 to us. Why not?"
Trapattoni also maintained his players had more to offer than they displayed in the second half here.
"I don't think the individual performances were good enough from some of our players. There were two or three who under performed a little bit but normally these players play well. We just seemed to be missing a little bit of strength."
However, he still believed his team's attitude was good and they will need to show it again if they are to overhaul the deficit on Wednesday.
"We cannot allow them play how they want. We must play with the same attitude and the same tactics in Paris. We also have to pressurise them a little bit more."
With just four days to recover the prospect of Ireland putting in the sort of energetic performance that Trapattoni wants seems unlikely.
Even if his team gets an equaliser they will be faced with a further half hour of extra-time unless they get a second.
But the Italian reminded reporters that Ireland have a tradition of famous victories against the odds.
"The team knows what has been achieved in the past and today we could have scored in the last 10 minutes. So the players must take this positive mentality to Paris."