BRUSSELS, Nov 19, 2009 (AFP) - French President Nicolas Sarkozy expressed sympathy Thursday for the people of Ireland after their national football team was deprived of a World Cup berth by a goal that should not have been awarded.
Video replays showed striker Thierry Henry used his hand in the build-up to a William Gallas goal in extra time that sent France to next summer's World Cup finals in South Africa.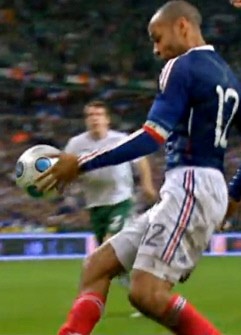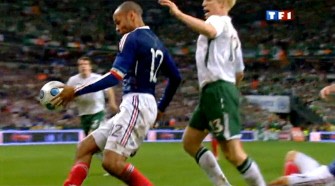 TV grab shows French forward Thierry Henry (L) eyes the ball next to Irish Paul Mc Shane (AFP photos)
After talks with Irish Prime Minister Brian Cowen on the sidelines of an EU summit in Brussels, Sarkozy said: "I told Brian Cowen how sorry I was for them."
"But don't ask me to substitute myself for the referee, or the French football authorities, or the European football authorities: leave me right where I am," he told reporters.
"You're going to start denouncing me as the hyper-president again," he said, in reference to his reputation as a leader who is drawn to the limelight and seeks to get involved in as many international issues as possible.
Cowen, for his part, said that talking about the match "wasn't the purpose of the meeting" between EU leaders.
However he said he believed after the chat with Sarkozy that "he would understand the sense of disappointment that the Irish people feel after the tremendous performance last night."
"This matter's going to be resolved by the sports organisations with responsibility for football, not in Brussels or anywhere else," he said.
Asked whether he told Sarkozy the match should be played again, Cowen said: "No, I didn't ask for a replay."
Earlier, before the summit started, Cowen called on world football's governing body FIFA to order that the World Cup qualifier be played again.
Asked if he backed the Football Association of Ireland's call for a re-match, Cowen said: "Yes, I do.
"Our minister of sport will write to FIFA in support of that complaint and look for a re-match," he said.
Cowen also paid tribute to the French footballing public's outpouring of sympathy for the Irish-- turning on their own team.
He said they had been "making it clear in great numbers that there is a lot of disquiet about the manner of the goal."