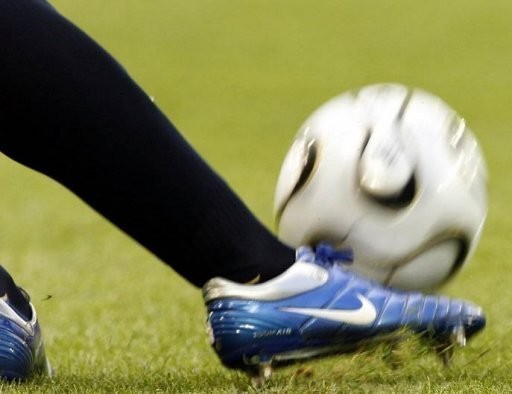 The beautiful game is still reeling from the allegations (AFP photo)
BERLIN, Nov 22, 2009 (AFP) - A German paper said Sunday it had obtained details of some of the 200 matches under investigation in the match-fixing scandal that has rocked European football.
According to the Sueddeutsche Zeitung's website, the matches involved were generally lower profile matches and the gambling crooks bribed players to lose by a certain amount.
The paper listed a sample of matches from Switzerland, Belgium, Croatia and Turkey.
For example, investigators are reportedly probing a match in the Swiss second division that took place between Yverdon Sport and FC Thun on April 26, 2009.
Players from the away team were reportedly bribed 15,000 euros (22,000 dollars) to make sure they lost by a four-goal margin. The match ended 5-1.
In another match in the Belgian second division, players from UR Namur allegedly received backhanders to lose by two goals. Namur duly lost 2-0.
The beautiful game is still reeling from the allegations on Thursday that a gang of around 200 people have been rigging games in Germany, Belgium, Croatia, Slovenia, Turkey, Hungary, Bosnia-Hercegovina and Austria and Switzerland.
"Without doubt this is the biggest scam there has ever been in European football," UEFA's match-fixing specialist Peter Limacher said at a news conference on Friday in Germany, where the probe was organised.
By bribing players, coaches, referees and officials to influence matches, the gang is thought to have earned as much as 10 million euros in huge bets with bookmakers in Europe and Asia, primarily in China.
Around 300 police carried out around 50 raids on Thursday in Germany, Britain, Switzerland and Austria, arresting 15 people in Germany and two in Switzerland. More than a million euros in cash and property were seized.