Bernd Schuster's Getafe staged the comeback of the season to thrash Barcelona 4-0 and snatch a place in their first ever Copa del Rey final despite losing the first leg 5-2.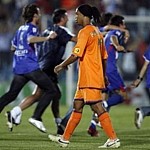 Barcelona's Ronaldinho leaves the pitch after their 4-0 Copa del Rey semi-final defeat against Getafe on 10 May 2007
Barca, who have won the competition 24 times, were out-thought, out-fought and out-played by their modest opponents who claimed a thoroughly deserved 6-5 win on aggregate and will meet treble-chasing Sevilla in the final at the Bernabeu.
Getafe laid siege to the Barcelona area from the first whistle, but despite creating a string of chances they did not take the lead until seven minutes before the break when midfielder Francisco Casquero volleyed home after a corner.
Five minutes later striker Daniel Guiza added a second, clipping the ball past keeper Albert Jorquera after an error by defender Gianluca Zambrotta.
Midfielder Angel Vivar Dorado put Getafe ahead on the away goals rule 25 minutes into the second half and Guiza added the icing on the cake with a fourth after yet another piece of shoddy defending by the out-of-sorts Barca back four.
"This goes to show just how beautiful football is," said an elated Schuster, a former Barcelona player. "We were superb, we deserved it and I'm so pleased for the players and the fans.
"I've been through so many things in football that you always have to believe you can win. The team were absolutely fantastic."
Schuster had been talking up his side's chances of staging a comeback all week and if Barca thought the second leg would be a mere formality then they could not have been more mistaken.
Getafe almost caught Barca napping in the first minute when Guiza found himself alone in the area after a mix-up in the Barca defence.
But the Getafe striker reacted too slowly and was run down by Oleguer before he could take a shot.
Three minutes later he had another great chance, but this time he sent a close-range volley over the bar after good work by strike partner Maris Verpakovskis.
Barca looked as though they might ride out the storm, but Getafe, roared on by a capacity 17,000 crowd at the Coliseo, laid siege to their area in the final minutes of the half and were rewarded for their efforts with two goals.
Casquero broke the deadlock when his well-taken half volley bounced amid a crowd of Barca defenders and spun past Jorquera and high into the net.
Five minutes later Guiza took advantage when a cross bounced off Zambrotta's foot to clip a loose ball past Jorquera and make it 2-0.
Barca were powerless to stem the tide after the break as they were out-gunned by a Getafe side that fought tooth and nail for every ball.
The home side went 3-0 up when Vivar Dorado headed in low at the near post on 71 minutes after a Cosmin Contra free kick and Barca were still reeling from the blow when Guiza made it 4-0 with a coolly taken strike to send the crowd into ecstasy.